Solanum neocardenasii
Common Name(s)
Papa de zorro
 
Code
 
Synonyms
 
Clade
Neocardenasii (Spooner 2017)
Series
Tuberosa
Ploidy
Diploid (2x)
EBN
2
Self-compatible
No
Genome

Unknown (BB or PP?)
Cytoplasm Type
 
Citation

Hawkes & Hjerting: Bot. J. Linn. Soc. 86: 411. 1983.
Description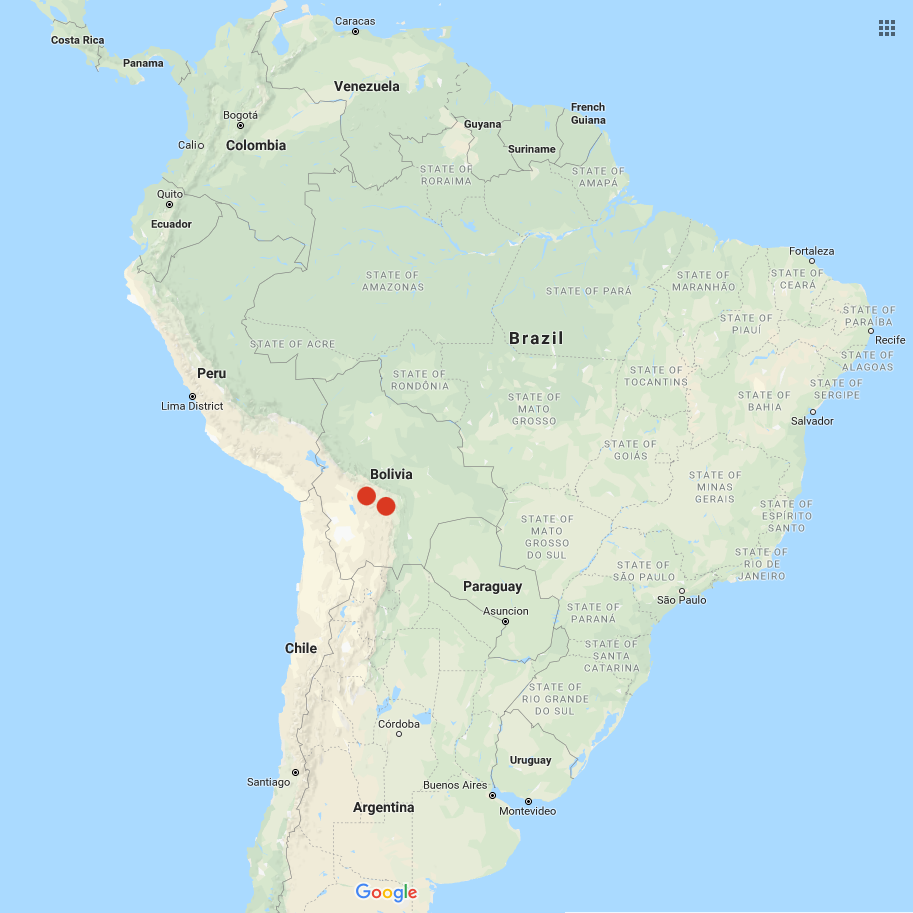 A dryland species from eastern Bolivia.  Plants roughly six inches to a foot tall.  Stolons about a foot long.  Tubers small, less than an inch, round to ovoid.  Flowers white.  Berries round, about half an inch in diameter.
S. neocardenasii and its close relative S. stipuloideum appear to be the closest South American relatives to the North American wild potato species (Spooner 2018).
This species has both type A and B glandular trichomes which provide resistance to aphids by entrapment, similar to S. berthaultii (Lapointe 1986).
| | | |
| --- | --- | --- |
| Condition | Level of Resistance | Source |
| Potato Virus Y | Resistant | Horvath 1989 |
| Alfalfa Mosaic Virus | Resistant | Horvath 1989 |
| Aphids | Resistant | Lapointe 1986 |
| Colorado Potato Beetle | Resistant | Dimock 1986 |
Glykoalkaloid content
Images
Cultivation
Breeding
Crosses with S. tuberosum
| | | | | | | |
| --- | --- | --- | --- | --- | --- | --- |
| Female | Male | Berry Set | Seed Set | Germination | Ploidy | Source |
| S. tuberosum | S. neocardenasii | Low | None | | | Jackson 1999 |
| S. neocardenasii | S. tuberosum | None | None | | | Jackson 1999 |
Crosses with other species
| | | | | | | |
| --- | --- | --- | --- | --- | --- | --- |
| Female | Male | Berry Set | Seed Set | Germination | Ploidy | Source |
|   |   |   |   |   |   |   |
|   |   |   |   |   |   |   |
References
Solanum neocardenasii at Solanaceae Source
Solanum neocardenasii at GRIN Taxonomy