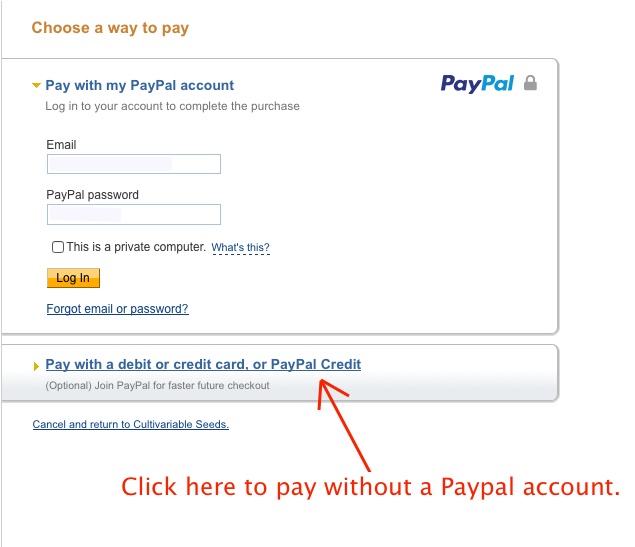 Payment
Ordering online is simple.  Credit card payments go through Paypal.  Say what you will about Paypal, but it's easy.  You don't have to have a Paypal account to order, just a debit or credit card.  If you don't have a Paypal account, still proceed with the Paypal option.  You will be taken to a screen that has PayPal login information, but also a link for credit card payments.  Click on the link in the bottom of the box that says "Pay with a debit or credit card, or Bill Me Later."  You will then be taken to a standard credit card processing screen and will not be required to create a Paypal account.
We are happy to take orders by mail as well.  You can pay by check or money order made out to Cultivariable.  Checks may take several weeks to clear for some reason, even in the age of electronic banking. If you pay with a money order, please keep your receipt.  If we don't receive it and you don't have the receipt, you can't get your money back.
Send mail orders to:
Cultivariable PO Box 111 Moclips, WA 98562 USA
We would prefer that you place your order on line, even if you are mailing payment, but if you don't want to do that, we will still take orders by mail.  You will pay more for shipping in most cases for orders by mail because the calculation has to be simpler than we can do with the online shopping cart.  Click here for our printable order form: cvorderform.
Trades
We will also offer very favorable trades for new varieties of the crops that we sell.  It is hard to import new varieties, but a surprising number keep turning up in the hands of private collectors, universities, botanical gardens, and the like.  If you are preserving such a variety, get in touch and we'll be happy to work out a trade.  Click this link to see our seed trading wish list.