Payment
Credit Cards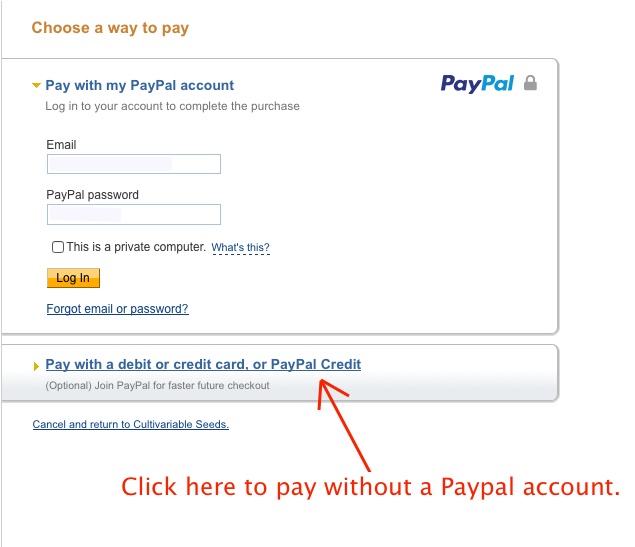 Credit card payments are processed by Paypal.  Say what you will about Paypal, but it's easy.  You don't have to have a Paypal account to order, just a debit or credit card.  If you don't have a Paypal account, still proceed with the Paypal option.  You will be taken to a screen that has PayPal login information, but also a link for credit card payments.  Click on the link in the bottom of the box that says "Pay with a debit or credit card, or Bill Me Later."  You will then be taken to a standard credit card processing screen and will not be required to create a Paypal account.
Cryptocurrencies
I accept Bitcoin, Ethereum, Litecoin, and some others – whatever Coinbase Commerce accepts at the time that you read this.  There is a 5% discount when you pay with crypto.  Several people have requested the ability to pay with Bitcoin over the Lightning Network and I am looking into this, but it isn't quite plug and play with WooCommerce yet and I am reluctant to get too experimental with your money.
Checks, Money Orders, and Cash
I am happy to take orders by mail as well.  You can pay by check or money order made out to Cultivariable.  It is best if you place the order online – there is an option for paying by check.  If you just mail me a handwritten order, it increases the chances that I will screw it up.  Checks may take several weeks to clear for some reason, even in the age of electronic banking. If you pay with a money order, please keep your receipt.  If I don't receive it and you don't have the receipt, you can't get your money back.  While I won't turn it down, I would really prefer that you do not send cash.  The problem is that it sometimes disappears and then I am in the awkward position of having to tell you that I didn't receive it.  At the very least, please make sure that you get tracking if you send cash.
Send mail orders to:
Cultivariable PO Box 111 Moclips, WA 98562 USA
Trading
I like to trade, but most of the things that I am looking for are pretty obscure or rare.  Of course, that works in your favor if you have something that I am interested in.  You can see my trading wish list here:
Refunds and Paypal Disputes
I will honor any request for a refund on an order that hasn't shipped yet or any part of an order that hasn't shipped yet.  The best approach if you want to cancel an order and get a refund is to email help@cultivariable.com.  Remember that I am slow to read emails, so it probably won't happen instantly, but it will happen.  I will honor a request for refund from the time that I receive the email, so if I am slow to read your email and ship your order after I receive the request, I will still refund you and you can keep the order.  Many people get an itchy trigger finger and decide to open a Paypal dispute before I have even read their email.  Understand this about Paypal disputes: they come with a $20 penalty, which is a lot of money in terms of seed packets.  I won't fight the dispute, because Paypal does not understand the idea of seasonal plant sales and I will just lose, which costs me time in addition to money, but you will go on the blacklist and I will not accept orders from you in the future.  Unfortunately, most of the people who start disputes clearly haven't read this page and I don't know what I can do about that.  If you read this before placing an order, or even just before getting ready to fire off a dispute, thank you!