Payment
Credit Cards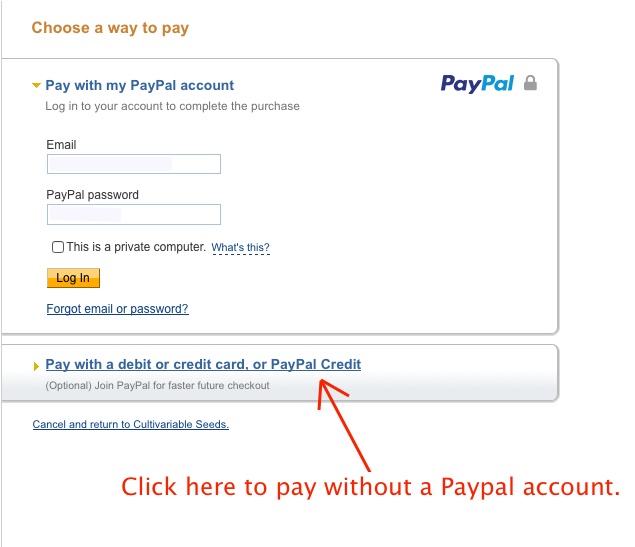 Credit card payments are processed by Paypal.  Say what you will about Paypal, but it's easy.  You don't have to have a Paypal account to order, just a debit or credit card.  If you don't have a Paypal account, still proceed with the Paypal option.  You will be taken to a screen that has PayPal login information, but also a link for credit card payments.  Click on the link in the bottom of the box that says "Pay with a debit or credit card, or Bill Me Later."  You will then be taken to a standard credit card processing screen and will not be required to create a Paypal account.
Cryptocurrencies
I accept Bitcoin, Ethereum, Litecoin, and some others – whatever Coinbase Commerce accepts at the time that you read this.  There is a 5% discount when you pay with crypto.  Several people have requested the ability to pay with Bitcoin over the Lightning Network and I am looking into this, but it isn't quite plug and play with WooCommerce yet and I am reluctant to get too experimental with your money.
Checks, Money Orders, and Cash
I am happy to take orders by mail as well.  You can pay by check or money order made out to Cultivariable.  It is best if you place the order online – there is an option for paying by check.  If you just mail me a handwritten order, it increases the chances that I will screw it up.  Checks may take several weeks to clear for some reason, even in the age of electronic banking. If you pay with a money order, please keep your receipt.  If I don't receive it and you don't have the receipt, you can't get your money back.  While I won't turn it down, I would really prefer that you do not send cash.  The problem is that it sometimes disappears and then I am in the awkward position of having to tell you that I didn't receive it.  At the very least, please make sure that you get tracking if you send cash.
Send mail orders to:
Cultivariable PO Box 111 Moclips, WA 98562 USA
Trading
I like to trade, but most of the things that I am looking for are pretty obscure or rare.  Of course, that works in your favor if you have something that I am interested in.  You can see my trading wish list here:
Refunds, Chargebacks, Paypal Disputes, and Blacklisting
I will honor requests for refund on any order that hasn't shipped yet or any part of an order that hasn't shipped yet, for any reason.  The best approach if you want to cancel an order and get a refund is to email help@cultivariable.com.  Remember that I am often behind on emails, so it probably won't happen instantly, but it will happen.  I will honor a request for refund from the time that I receive the email, so if I am slow to read your email and ship your order after I receive the request, I will still refund you and you can keep the order.  I will refund (or replace) orders that have shipped but not arrived once one month from the sending date has passed (that is the sending date, not the order date).  That may seem like a long time, but it is increasingly common for the USPS to take three weeks to deliver orders.  If you aren't willing to wait a month for your order to arrive, then please don't order.  Refunds amounting to $500 or more may take 10 days to process, as I don't keep a lot of money in the Paypal account and bank transfers take several days.
Some people get an itchy trigger finger and decide to open a dispute before I have read their email or without even making an attempt to contact me.  Understand this about chargebacks and Paypal disputes: they come with a $20 penalty, which is a lot of money in terms of seed packets.  It is my average order size, so it is like I lost two orders.  This is effectively the nuclear option in our relationship and I have a policy of mutually assured destruction.  I won't fight the dispute, because Paypal does not understand the idea of seasonal plant sales and I will just lose, which costs me time in addition to money, but you will go on the blacklist and I will not accept orders from you in the future.  The only way to get off the blacklist is to send me an email that correctly summarizes my shipping policy in your own words and send me a payment of $20 for each chargeback that you completed.  Short of that, I will never accept an order from you again.  Unfortunately, most of the people who start disputes clearly haven't read this page and I don't know what I can do about that.  If you read this before placing an order, or even just before getting ready to fire off a dispute, thank you!