Payment
Credit Cards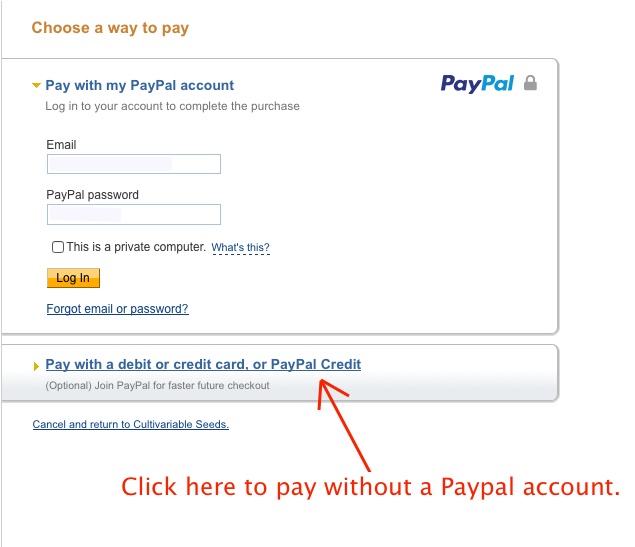 Credit card payments are processed by Paypal.  Say what you will about Paypal, but it's easy.  You don't have to have a Paypal account to order, just a debit or credit card.  If you don't have a Paypal account, still proceed with the Paypal option.  You will be taken to a screen that has PayPal login information, but also a link for credit card payments.  Click on the link in the bottom of the box that says "Pay with a debit or credit card, or Bill Me Later."  You will then be taken to a standard credit card processing screen and will not be required to create a Paypal account.
Crypto
I accept Bitcoin and Litecoin and perhaps additional cryptocurrencies by the time you read this.  (If you have another mainstream crypto like Etherium, I can take it, but we'll just have to do the transaction manually because I don't get enough crypto orders to pay for plugins to process them.)  There is an automatic 10% discount when you pay with Bitcoin and 5% for Litecoin, which accounts for the extra fees that I would have to pay for credit card processing and the transaction fees that you have to pay for the transfer, which should generally give you some savings, particularly for larger orders.  If you are placing an order of $100 or more, you can save a total of 20% by paying with Bitcoin – 10% for the standard volume discount and 10% more for Bitcoin.  One nice thing about cryptocurrencies is that no payment processor is involved.  These corporations are increasingly throwing their weight around and making it hard for people who say things that they don't like on the Internet.  While nobody is likely to try to suppress anything that I have to say, I would like to preserve the freedom of the Internet and taking power away from the corporations that move the money is a good way to do that.  So, if you have Bitcoin, I am happy to take it as payment.  I recommend that you supply a Bitcoin address for refunds at checkout, since there is always a chance that we won't be able to fulfill some items and will need to refund you.  It isn't required though – If you don't supply an address, then we will email you and work out a refund, if necessary.
Technical details: Because our products are relatively low in price and Bitcoin transfer fees have been increasing lately, I have eliminated the timeout for Bitcoin payments.  This means that you can specify a low transaction fee and it will work fine.  (Whether or not you can set the transaction fee depends on which wallet you use.  If you use an exchange account, you might not be able to set the fee.  In that case, you might want to order on the weekend, when volume and transaction fees are usually lower.)  I won't ship your order until the transfer has three confirmations, but it is rare that I ship anything faster than a week, so it is no problem to wait a few days for a transaction to confirm and save some Sats.  Bitcoin payments make the most sense for larger orders, above $100.  For smaller orders, you will want to pay close attention to the transaction fee to make sure that it doesn't exceed the 10% discount on your order.
Checks, Money Orders, and Cash
I am happy to take orders by mail as well.  You can pay by check or money order made out to Cultivariable.  Checks may take several weeks to clear for some reason, even in the age of electronic banking. If you pay with a money order, please keep your receipt.  If I don't receive it and you don't have the receipt, you can't get your money back.  I would really prefer that you do not send cash.  The problem is that it sometimes disappears and then I am in the awkward position of having to tell you that I didn't receive it.  At the very least, make sure that you get tracking if you send cash.
Send mail orders to:
Cultivariable PO Box 111 Moclips, WA 98562 USA
I would prefer that you place your order on line, even if you are mailing payment, because that reduces the odds that I will make a mistake.  If you don't want to do that, I will still take orders by mail.
Trading
I like to trade, but most of the things that I am looking for are pretty obscure or rare.  Of course, that works in your favor if you have something that I am interested in.  You can see my trading wish list here:
Refunds and Paypal Disputes
I will honor any request for a refund on an order that hasn't shipped yet or any part of an order that hasn't shipped yet.  The best approach if you want to cancel an order and get a refund is to email help@cultivariable.com.  Remember that I am slow to read emails, so it probably won't happen instantly, but it will happen.  Many people get an itchy trigger finger and decide to open a Paypal dispute before I have even read their email.  Understand this about Paypal disputes: they come with a $20 penalty, which is a lot of money in terms of seed packets.  I won't fight the dispute, because Paypal does not understand the idea of seasonal plant sales and I will just lose, which costs me time in addition to money, but you will go on the blacklist and I will not accept orders from you in the future.  Unfortunately, most of the people who start disputes clearly haven't read this page and I don't know what I can do about that.  If you read this before placing an order, or even just before getting ready to fire off a dispute, thank you!