Overview
Potato towers are a form of extreme hilling that uses a structure to add a foot or more of soil above the seed tuber.
Towers are not a new idea, but they have only become popular in recent years.
Potatoes are normally hilled up about six inches, whether they are grown in the ground or in containers.
Hilling up much beyond six inches brings no benefits and is likely to reduce yield.
The purpose of hilling is not to stimulate production of tubers, but to protect the tubers from the environment.
Potato yield is primarily limited by foliage area, not by the amount of soil above the seed tuber.
Indeterminate (late) potatoes do not form tubers in a different way than determinate (early/mid) potatoes.  They just grow longer.
Conventional container growing works fine with potatoes but potato towers don't work.
Introduction
You have probably read about potato towers somewhere on the Internet.  The idea is immediately appealing: rather than strain your back growing potatoes in the ground, you can grow just one plant, but keep adding soil to it in layers to increase the yield.  This is essentially extreme hilling, adding 12 to 30 inches or more of soil over the top of the seed piece instead of the more typical 4 to 6 inches.  Each additional layer delivers roughly a doubling of the yield versus growing the plant in the ground.  At the end of the season, you just take the tower apart and hundreds of pounds of perfect spuds tumble out at your feet.  The only problem with this idea is that it isn't true.  You will find no research that supports this idea.  You will also not find any photographic evidence that is not obviously faked.  The claims about the physiological basis for this idea are totally wrong.  Despite these limitations, the myth persists and grows stronger each year.  Nathan Pierce, a moderator for the Kenosha Potato Project, called the potato tower phenomenon "the single worst piece of gardening advice that you see frequently on the Internet," and although the Internet is chock full of terrible gardening advice, I think he is probably right because towers require a substantial investment of time and material that brings no benefits.  This post will take a look at the history of this idea and delve into the reasons why it simply doesn't work.
Defining Failure
Before we go any further, I want to clarify exactly what I mean by "doesn't work."  I always get some angry responses when I claim that towers don't work.  I am not saying that you can't grow potatoes in a tower or even that you can't get good yields in a tower.  I am saying that you won't get better results with a tower than you can obtain under similar growing conditions without the additional levels of hilling.  You will almost certainly get worse results with a tower if you do perform all that additional hilling.  (Growing conditions vary, and in some climates it might still work out for you, but it will be success in spite of your efforts.)  It is specifically the claim that towers are able to produce greater yields due to the production of more layers of tubers that is wrong.  If you take that away, then a tower is just a planter and subject to all the pluses and minuses of growing potatoes in containers, which are specific to climate.
Several people have asked, quite reasonably, how we could tell if a potato tower worked as described.  I don't want to get your hopes up, because there is really no possibility that you are going to find success with this, but it is still a useful exercise to imagine what it would look like.  Per plant yields with elite potato varieties occasionally reach 10 pounds or more under perfect conditions.  If a tower worked as described, it would be able to routinely exceed that threshold.  The tower hypothesis claims that the additional hilling allows the plant to create more tubers, so the tuber count should also be significantly higher than for a conventionally grown plant.  If you can show this kind of high yield, high tuber count combination and you can reproduce it reliably, you might have the first real tower potato.  Just don't invest your retirement savings in this project.
Wire Mesh Towers
There is another kind of tower, made of wire mesh, where the plants grow out the sides.  I am not discussing that type of tower here.  It is not as obviously incompatible with potato anatomy, but it seems most people don't have great results.  I wouldn't expect great results, since this kind of structure takes a plant that normally forms stolons over 360 degrees and reduces that to about 150 degrees.  Half of the tower is always going to be shaded, so that further restricts the yield.  You are trying to overcome the plant's natural geotropism.  It is going to find a way to send shoots upward against gravity and roots downward with gravity, no matter what you do.  People think that the roots will go to the center of the tower, but geotropism says that the roots are going to grow mostly downward along the outer wall of the tower, where water and temperature management will be challenging.  So, I have serious doubts, but I haven't tried this kind of tower and don't plan to, so I will reserve judgment.
Where is the Research?
I get a lot of responses to this post and one question comes up again and again: where is the research that shows that potatoes don't form additional levels of stolons?  As far as I am aware, this has not been studied.  There is a good reason for that.  Nobody has observed a potato that grows this way.  It is kind of like asking why there aren't more studies showing which tomato varieties form tubers.  Nobody has studied that because nobody has ever observed a tomato that makes tubers.  Science usually starts with an observation.  It would be better to ask if there is anybody who has documented a potato that does form multiple levels of stolons.  This would be very easy.  Just one picture would sort everyone out and almost certainly inspire further research.  I have grown tens of thousands of potato plants, from hundreds of accessions, modern, Andean, and wild potatoes from the whole native range of the potato.  I have never seen one that forms stolons in the way that is imagined in towers.  I have also talked to many other people with similar experience who have never seen such a thing.  You can't prove that something doesn't exist, but you can prove that it does.  I leave it to boosters of the potato tower to demonstrate a variety that behaves in the manner claimed.
There are several studies that conclude that hilling increases the marketable yield of tubers, but not the total yield.  That shows that hilling is protective. It primarily protects the tubers from sunlight, but also pests and some diseases.  This means that more of the tubers are in good condition for sale.  The total yield is generally the same though.
Quite a few people have also pointed out that there are university Extension articles that promote towers.  The Cooperative Extension System is a great idea – bringing growers into contact with scientific experts to get the best possible information.  Unfortunately, it is also not what it used to be and a large number of articles published by local Extension groups are written by non-experts.  Several Extension articles that I have reviewed on this subject were written by people who clearly did not have experience with potato towers or much experience growing potatoes for that matter.
History of a Bad Idea
People have been growing potatoes for 10,000 years.  They formed the backbone of Andean agriculture and the native peoples of the Andes were no slouches, as attested to by their massive earthworks.  They terraced valleys from top to bottom, built canals to carry water through the mountains, and possibly even built agricultural experiment stations.  The later adopters of the potato were no dummies either and were unusually driven to increase crop yields, leading to the Green Revolution.  Somehow, none of these people figured out how to grow potatoes in towers.  You would think that, if this worked so well, there would be large scale installations of potato towers all over the world.
From Tires to Towers
As far as I can tell, the potato tower began with the idea of growing potatoes in tires.  Somebody realized that you could achieve the necessary hilling quite easily by putting a potato on the ground and then filling up the tire with soil.  That works very nicely.  I'm sure it didn't take long before someone decided to add a second tire, then a third, and the tower was born.  I'm not sure how far back that idea goes, but I'm guessing that just about as long as there have been tires, there have been people trying to grow stuff in them.  I can find references to growing potatoes in tires going back to the 1970s.  References to towers don't go that far back, but some structures that we would now call potato towers do.  The most notable of these is a potato tower patent from 1976, from which I lifted the image above.  While the patent predates the term "potato tower," all the elements are there and the illustration does an admirable job showing a kind of potato growth that has never been captured on photo or video.  One of the most fascinating parts of the potato tower phenomenon is how little people are deterred by its lack of reality.  There is more than one patent for potato towers and hundreds of articles, both in print and on-line.  A lot of work went into writing all that material, but apparently no testing.  That's pretty remarkable.
The term "potato tower" first started to show up on the Internet on Usenet in the 1990s, but it wasn't a common term.  Through the 1990s, there are more than a hundred mentions of growing potatoes in tires for every mention of potato towers.  Potato towers came into the Internet consciousness in 2006 and really started to take off in 2012.  Google Trends shows the frequency of these search terms over time: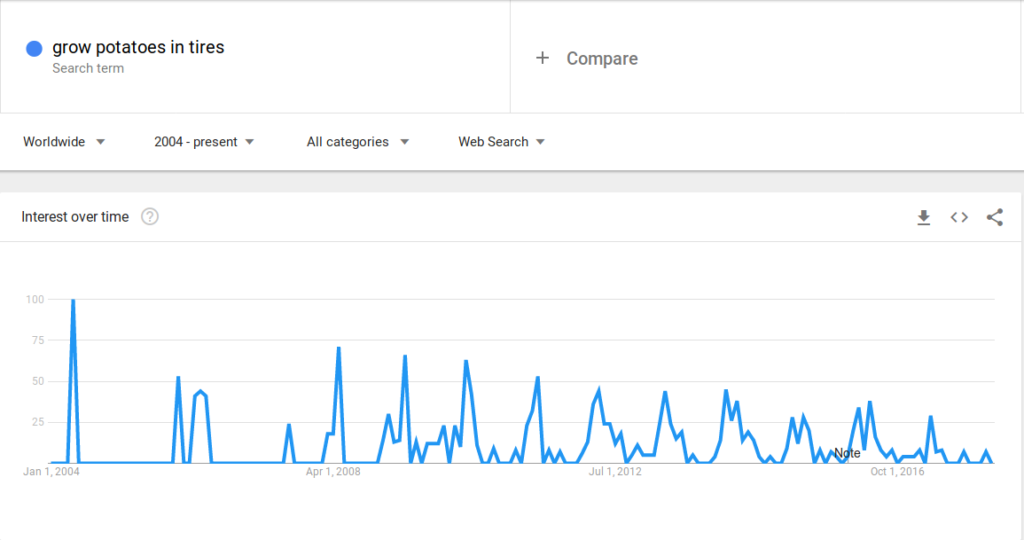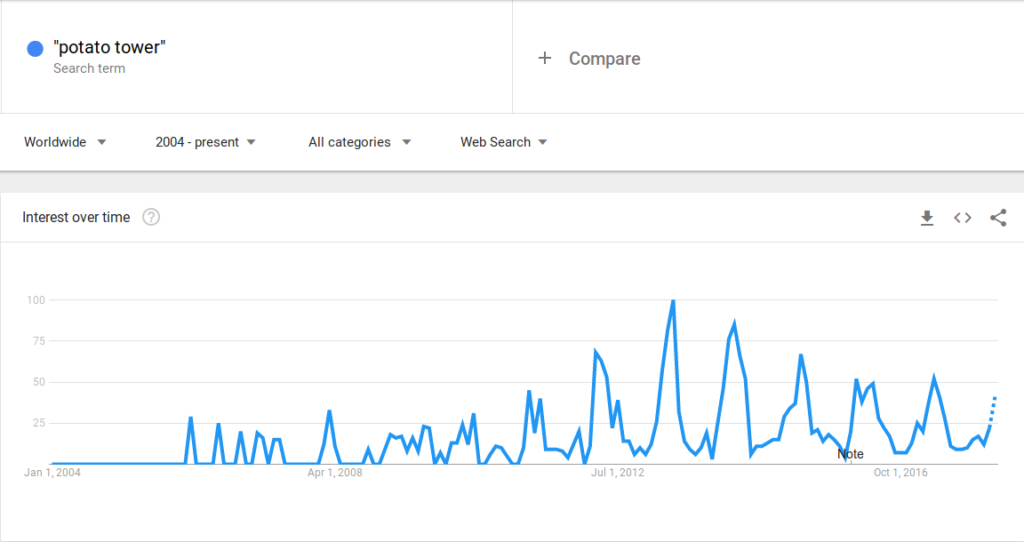 So, fewer people are searching for information about growing potatoes in tires, but more people are looking for information about potato towers.  While spring searches for the term peaked in 2013, the overall amount of searches year-round have been pretty constant.  It doesn't look like the potato tower myth is ready to die out on its own, unfortunately.
The Irish Eyes Type Tower Box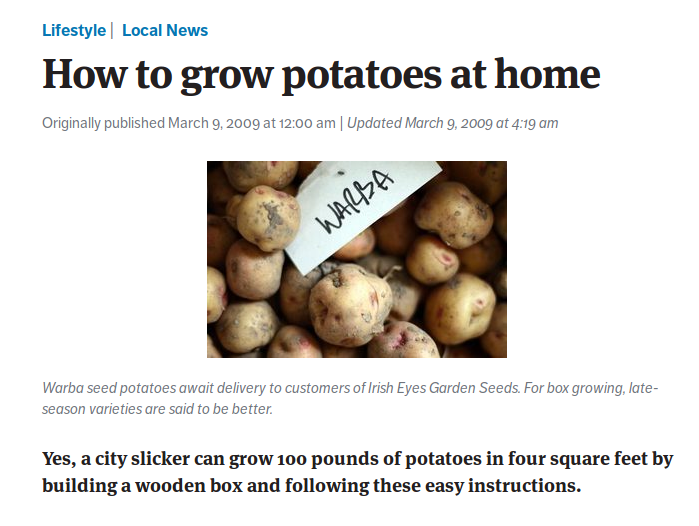 For the first few years, the idea shows up primarily in forums and personal blogs, but starting about 2005, it began to creep into magazines and newspapers as well.  One frequently cited article from the Seattle Times in 2005 (followed by a more popular recycled version in 2009) promises 100 pounds of potatoes in four square feet.  This idea traces back to Irish Eyes, a seed potato supplier, and appeared in newspapers across the country over several years.  In fairness, the article reports that someone who tried it produced only 25 pounds.  Assuming that they planted one tuber per square foot, that would be a yield of 6.25 pounds.  That's on the high side vs. the typical field yield, but still well within the possibilities for growing potatoes in the ground.  This is one of the common results that you see with towers: people are very impressed with the yield, even though it is not any better than they could have expected if they grew plants in the ground with the same level of attention.
Other than being taller than necessary, the Irish Eyes box (see right) is a reasonable enough design and the yield promises are not impossible, although few people are likely to achieve them.  By allowing the plants to grow out over the sides of a 4 square foot box, you can really expand the foliage area to around 16 square feet.  (But bear in mind that you could easily grow 16 to 20 plants in 16 square feet of ground.)  If you live in a perfect climate and put the plants on drip irrigation, you could possibly grow 13 plants in that box – 9 along the perimeter and dangling out and four growing in the center.  100 pounds divided by thirteen plants gives 7.7 pounds per plant.  Very few people are likely to ever see such a high yield, but it is within the range that can be achieved growing in the ground, everything else being equal.  A Denver Post article supplies a bit more information, including the fact that the originator of this idea has achieved a maximum yield of 81 pounds.  That would be 6.2 pounds per plant, still a great yield, but well within reason in the most favorable climates.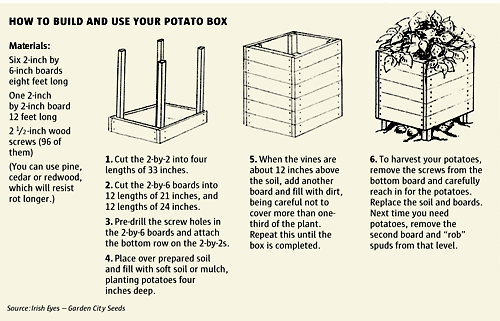 The main problem with this design is that it is much more elaborate than it needs to be.  There is no reason to build it up so high.  The multiple levels would lead you to believe that what happens inside the box will look a lot like the patent illustration at the beginning, with tubers forming at every level of the box.  That just doesn't happen.  If you grow a potato like this, when you dig it up, you are going to find a very long stem and a cluster of tubers at about the level that you planted the seed piece.  This is really just an unusually tall planter.  You could do as well with a container of the same area that is only about a foot tall.
The Modern Myth
I think that we have found the origin of the modern potato tower concept, but it had not yet reached the point of unbelievability  So, when did this thing go fully fraudulent?  It is actually pretty hard to pin it down.  Starting in 2009, there were hundreds of blogs and articles per year about potato towers, offering a spectrum of variations on the story.  I read dozens of these articles and I would have to do a lot more work to establish the timeline.  It isn't worth the effort.  One thing that I feel pretty confident about though is that most people did not set out to tell a tall tale (so to speak).  This story evolved over time, with people adding a few details here and there that they thought plausible.  If you can fault most of the people who have written about this with anything, it is not sufficiently testing the idea before promoting it.  Articles about potato towers fall into four categories: those that promote the idea and never report on results, those that later report pretty normal potato yield, those that later report failure, and those that promote the idea and then unconvincingly report success (usually in support of selling a tower kit).
The tower story has gotten a lot more refined over the years.  It now includes details like the need to add levels at a certain rate in order to force the plant to form more stolons and a requirement for indeterminate varieties in order to produce multiple levels of tubers.  Many sources now claim that potatoes won't produce stolons over a long expanse of stem, but "only" about a foot.  If you have a potato that produced stolons over a vertical foot of stem, please take a picture!  I won't hold my breath waiting for my inbox to fill up.  These enhancements sound good and they might convince you that, if your tower didn't really work, it is because you didn't do it right.  It isn't your failure though.  The whole idea is based on a fundamental misunderstanding of how potatoes form tubers.
Potatoes Just Don't Grow Like That
We could spend a lot more time looking into the origins of the potato tower, but let's cut to the chase.  Potato towers don't work any better than growing in containers or growing in the ground, all else being equal.  All else being equal means that they get the same kind of soil fertility, the same soil temperature, the same amount of water and drainage, the same amount of soil coverage, and the same level of defense against pests.  Often, it is easier to achieve these things in a container, although sometimes the opposite is true.
There are two insurmountable problems with the potato tower concept:
Tuber production is limited by foliage area.
Domesticated potatoes don't produce additional stolons past the first few nodes above the seed piece.
We could dispense with this idea based only on the relationship between foliage area and the total energy budget of the plant.  The main function of a plant's foliage is to collect energy.  That energy is converted to sugars and moved into the body of the plant for storage.  This is where tubers come from.  They are little balls of captured energy and water.  Evolution does not allow for slackers.  Plants have evolved to fully use the capacity of their leaves to capture and store energy.  There is no excess energy for the plant to use to form more tubers, no matter how many stolons that you might convince it to produce.  If you somehow forced the plant to produce ten levels of stolons, then you would get 10 times as many tubers that would be 1/10th as large (actually less, because so much energy would have to be expended on the formation and maintenance of all those stolons).  If you want more yield, you need more foliage.  Nobody claims that towers produce more foliage though.
The other problem is that potatoes simply don't produce an endless number of stolons.  Stolons are formed from the first few nodes above the seed piece and rarely any higher.  The reason for this is that the plant forms stolons in response to available energy.  While there is no technical limit to the number of nodes that may form stolons, tubers forming on stolons at the lowest nodes will soak up the available energy and prevent the plant from forming tubers on higher nodes.  You can force a plant to form higher stolons by removing tubers, but this obviously has no practical value.  Hilling up in excess of six inches is a waste of time and effort and only makes the plant work harder.  The reason for hilling is not to make the plants form more tubers but to ensure that the tubers are covered by soil.  Tubers need to be covered to protect them from pests, diseases, and sunlight, which will turn them green and increase the content of toxic glycoalkaloids.  Plants will often survive extreme hilling, but you aren't doing them any favors; they have to pump photosynthate and water farther, which costs the plant energy.  The greater depth of soil can also be a barrier to water reaching the roots.
It is worth spending a little time thinking about the purpose of potato tubers.  Perennial plants often form large storage roots as a reserve.  The water and carbohydrates that are stored in the roots can be used to sustain the plant through difficult conditions or to allow the plant to survive the winter when the aerial part of the plant is killed by frost or drought.  The roots are sometimes formed deep in the soil in order to achieve the maximum level of protection from the elements.  Potatoes are annual plants.  Even in a frost-free climate, they eventually die back and the original plant does not regrow.  So, while tubers can act as a reserve, particularly while a new plant is getting established, they are primarily a reproductive structure.  Potatoes naturally form their tubers just below or even at the surface of the soil, with stolons also running just beneath the surface and often emerging to form new satellite plants.  We plant them deeper or hill them to protect the tubers from exposure and also to prevent the stolons from forming additional stems instead of tubers.  Left to its own devices, a potato plant spreads horizontally, forming a combination of secondary plants and tubers.  It never grows deeper into the soil.  Given that, it is easy to see why potatoes haven't evolved the ability to set additional layers of stolons from a deeper planting.  Only humans plant potatoes deeply.
Indeterminate Potatoes
A mythology has been built around the idea of the indeterminate potato as the solution to the tower problem.  Indeterminate potatoes do not produce stolons in a different way than determinate potatoes do.  It is also worth pointing out that determinacy is not really a very useful concept with potatoes; it is essentially a more complicated way to express whether the maturity is early or late, unless your main interest is in the flowering behavior of the pant.  Potatoes form all the incipient stolons that will become tubers in the two to six weeks following emergence.  While early/determinate varieties form a certain amount of foliage, flower, and then die back, late/indeterminate varieties continue to branch and flower for a much longer period of time.  The tubers and the total yield are often larger, but this is simply a result of the plant having more foliage area and more time to grow.  A tower adds nothing to the experience of growing late/indeterminate varieties other than additional work.
Breeding a Tower Potato
It is possible that a variety could be bred to better take advantage of the vertical space provided by a tower, although I don't think it is likely since the tower introduces a lot of additional problems that must be overcome.  Some late domesticated varieties and wild potatoes set stolons over a larger number of nodes and also can form very long and sometimes branching stolons.  These might be convinced to grow through a larger vertical space.  Potato plants also vary considerably in size and a much larger plant would be able to collect more energy.  In combination, these traits might make for a potato that would behave more like the tower potatoes that have been imagined.  Even if it is possible though, it doesn't seem like a very practical investment.  One limitation is that you will always need the oldest tubers to stop growing to allow for newer tubers to form.  That means that any plant that successfully forms more layers of tubers will do so at the expense of tuber size.
Conclusion
The great thing about potatoes is that they are simple to grow.  And cheap too.  Why make it complicated and expensive?  A simple container or raised bed, filled with quality soil, amended and watered appropriately, can deliver heavy yields of potato along with the other benefits attributed to towers such as easier management and harvest.  Potato towers don't work.  They never did and they probably never will.  No doubt, the idea will persist on the Internet as long as people still grow potatoes, which will probably be a very long time.
As of 2020, this article has become the most popular on our website.  That doesn't appear to have made much of a dent though.  Towers are more popular than ever.  There ain't no such thing as a free lunch, but that has never stopped people for searching for one.
Have you tried a potato tower?  If so, leave a comment and let the world know how it worked for you.
More Information
The Low Technology Institute is studying several different potato growing methods this year, including towers.  If you are interested in this subject, you might want to follow along.
Nathan Pierce, an admin with the Kenosha Potato Project experimented with towers for several years and documented the process at Tomatoville with lots of pictures.