---
Solanum x edinense
Common Name(s)
 
Code
edn
Synonyms
S. salamanii
Clade
4
Series
Demissa
Ploidy
Pentaploid (5x)
EBN
Unknown (probably 4EBN)
Tuberization Photoperiod

Day neutral
Self-compatible
No (probably due to male sterility)
Genome

AAAAA
Cytoplasm Type
 
Citation

Berthault: Rech. bot. Solanum tub. 142, fig. 41, 42, tab. 8. 1911.
Description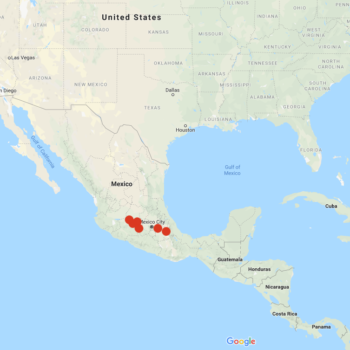 Solanum x edinense (edinense refers to Edinburgh and specifically the botanic garden there, where the species was first described) is a natural hybrid species from central Mexico, generally found in areas of potato cultivation. Thought to be a cross of S. demissum and domesticated S. tuberosum. Plants range from three to six feet tall. Blue flowers. Round berries. Possibly male sterile.
Resistances
The resistances of S. x edinense have received little study, but the wild parent, S. demissum, has a wide range of pest and disease resistances and presumably those will be inherited in some of the progeny.  S. demissum was used commonly in domesticated potato breeding in the early to mid-20th century as a source of resistance traits.
| Condition | Type | Level of Resistance | Source |
| --- | --- | --- | --- |
|   |   |   |   |
Glykoalkaloid content
No information, but intentional crosses between the putative parent species have generally segregated for glycoalkaloid content, with some palatable progeny.
Images
Cultivation
Breeding
This was one of the first wild potato species used in breeding with the domesticated potato.  The variety Brennragis, a S. x edinense x S. tuberosum hybrid, was released in 1936 (Ross 1966).
In the process of recapitulating this hybrid at the Royal Botanic Garden Edginburgh, they found success using S. demissum only as the female parent (Coleman 2018).  They also noted possible cases of hybrid necrosis in the progeny (Coleman 2019).
Crosses with S. tuberosum
| Female | Male | Berry Set | Seed Set | Germ | Ploidy | Source |
| --- | --- | --- | --- | --- | --- | --- |
| | | | | | | |
Crosses with other species
| Female | Male | Berry Set | Seed Set | Germ | Ploidy | Source |
| --- | --- | --- | --- | --- | --- | --- |
| | | | | | | |
References
Solanum x edinense at Solanaceae Source
Solanum x edinense at GRIN Taxonomy