---
Solanum x edinense
Common Name(s)
 
Code
edn
Synonyms
S. salamanii
Clade
4
Series
Demissa
Ploidy
Pentaploid (5x)
EBN
Unknown (probably 4EBN)
Tuberization Photoperiod

Day neutral
Self-compatible
No (probably due to male sterility)
Genome

AAAAA
Cytoplasm Type
 
Citation

Berthault: Rech. bot. Solanum tub. 142, fig. 41, 42, tab. 8. 1911.
Description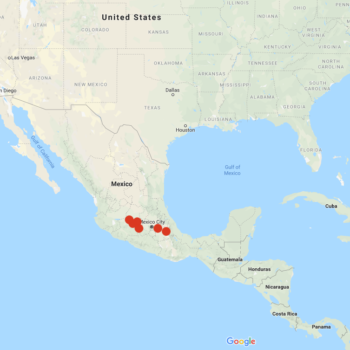 Solanum x edinense (edinense meaning from Edinburgh and specifically the botanic garden there) is a natural hybrid species from central Mexico, generally found in areas of potato cultivation. Thought to be a cross of S. demissum and cultivated S. tuberosum. Plants range from three to six feet tall. Blue flowers. Round berries. Possibly sterile.
Resistances
| Condition | Type | Level of Resistance | Source |
| --- | --- | --- | --- |
|   |   |   |   |
Glykoalkaloid content
No information, but intentional crosses between the putative parent species have generally segregated for glycoalkaloid content, with some palatable progeny.
Images
Cultivation
Breeding
This was one of the first wild potato species used in breeding with the domesticated potato.  The variety Brennragis, a S. x edinense x S. tuberosum hybrid, was released in 1936 (Ross 1966).
Crosses with S. tuberosum
| Female | Male | Berry Set | Seed Set | Germ | Ploidy | Source |
| --- | --- | --- | --- | --- | --- | --- |
| | | | | | | |
Crosses with other species
| Female | Male | Berry Set | Seed Set | Germ | Ploidy | Source |
| --- | --- | --- | --- | --- | --- | --- |
| | | | | | | |
References
Solanum x edinense at Solanaceae Source
Solanum x edinense at GRIN Taxonomy