Solanum cajamarquense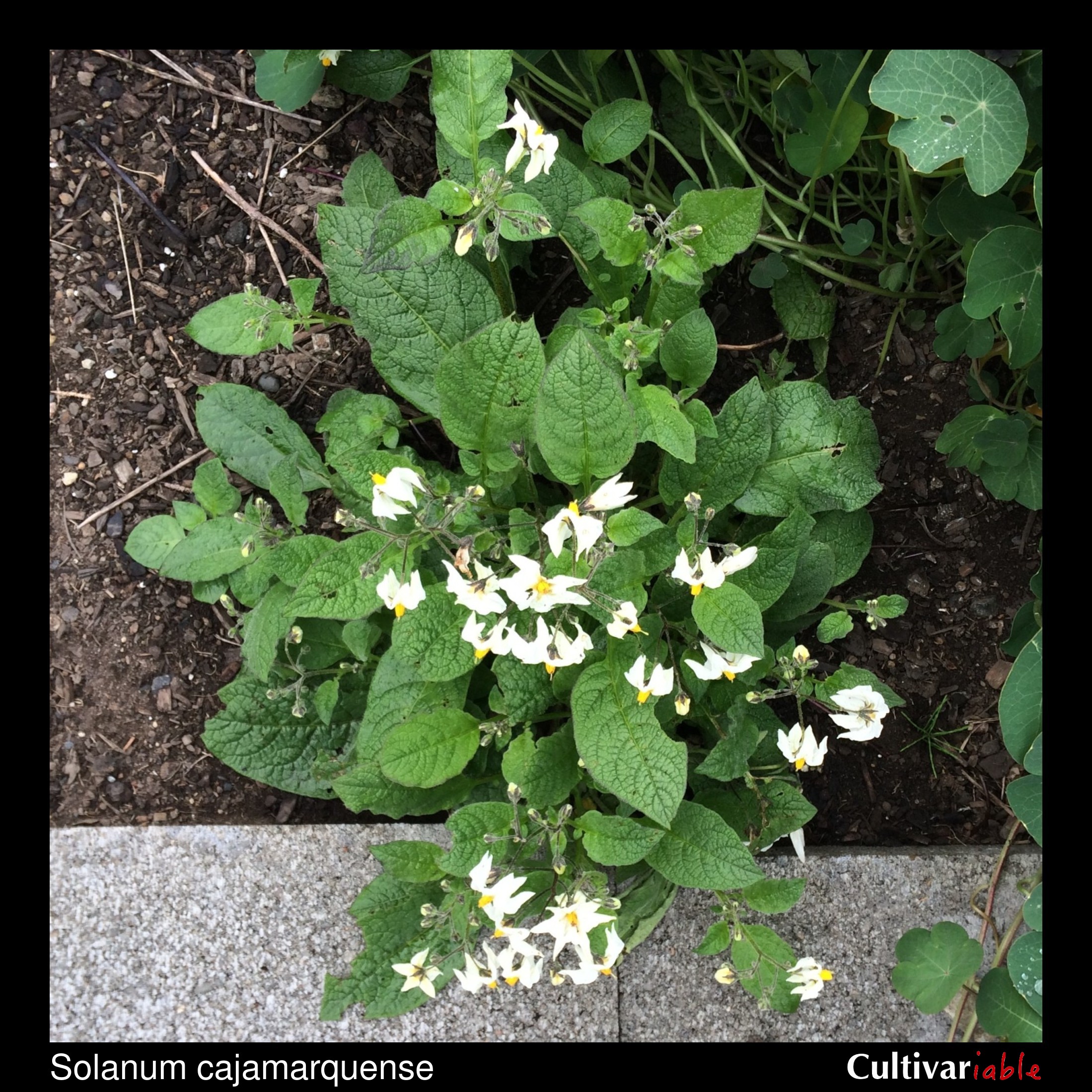 | | |
| --- | --- |
| Common Names | |
| Code | cjm |
| Synonyms | S. cajamarcense |
| Clade | 3 |
| Series | Tuberosa |
| Ploidy | Diploid (2x) |
| EBN | 1 |
| Tuberization Photoperiod | Short Day |
| Self-compatibility | No |
| Nuclear Genome | P |
| Cytoplasmic Genome | Unknown |
| Citation | Ochoa: Agronomía (Lima) 26(4): 314. 1959. |
Description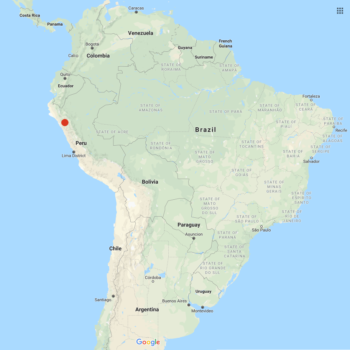 Solanum cajamarquense is an unusual speces, with a small distribution in northern Peru.  It grows at mid-elevations of the Andes from about 6500 to 8500 feet.  Plants roughly 16 to 20 inches tall.  Stolons long, exceeding two feet.  Tubers small and moniliform, like beads on a string.  Flowers white.  Berries small, less than 1/2 inch, round, striped.  The specific epithet, cajamarquense, refers to Cajamarca Department, Peru.
Li (2018) placed this species in Clade 3, a group of Andean diploids, but closely neighboring Clade 1+2, North American 1EBN diploid species.
Resistances
S. cajamarquense appears to have unique late blight resistance genes (Lindqvist-Kreuze 2010).  Vega (1995) found that this species is about as frost tolerant as domesticated potato.
Some plants of this species produce very heavy trichomes, which presumably acts as an insect deterrent.
| Condition | Type | Level of Resistance | Source |
| --- | --- | --- | --- |
| Phytophthora infestans (Late Blight) | Fungus | Resistant | Gonzales 2002, Perez 2007 |
Glykoalkaloid content
Images
| | | | |
| --- | --- | --- | --- |
| Solanum cajamarquense seedling | Solanum cajamarquense plant | Solanum cajamarquense plant | Solanum cajamarquense plant |
| Solanum cajamarquense flower | Solanum cajamarquense flowers | Solanum cajamarquense plant | Solanum cajamarquense trichomes |
| Solanum cajamarquense flower |   |   |   |
Cultivation
I have found germination of this species to be very slow, taking between one and three months.  I haven't had much luck getting tubers bigger than pinheads from this species, even when the plants are left to grow into November or December.
The pesticide carbofuran has been observed to reduce flowering in this species (Centeno-diaz 2007).
Accessions Evaluated
The following accessions were examined to prepare this profile.  I have evaluated 2/2 accessions currently available from the US Potato Genebank.
PI 230522
Poor germination and relatively slow seedling growth.  Dark colored seedlings.  Leaves with purple undersides.  Some with purple veins as well.  Some with blue flowers.  The GRIN page for this accession lists it as S. cajamarquense, but also indicates that it is hybrid seed with PI 275149, which is an accession of S. boliviense.  I will need to inquire with the genebank to see if there is more detail about that.
PI 310988
Good germination and relatively strong seedling growth.  Light colored, pubescent seedlings.  Leaves with green undersides.
Breeding
Crosses with S. tuberosum
| Female | Male | Berry Set | Seed Set | Germ | Ploidy | Source |
| --- | --- | --- | --- | --- | --- | --- |
| | | | | | | |
Crosses with other species
| Female | Male | Berry Set | Seed Set | Germ | Ploidy | Source |
| --- | --- | --- | --- | --- | --- | --- |
| | | | | | | |
References
Solanum cajamarquense at Solanaceae Source
Solanum cajamarquense at GRIN Taxonomy