Solanum juzepczukii
| | |
| --- | --- |
| Common Names | Papa amarga, Lucki, Luki, Luqui, Orcco-malcco, Chocke pitu, Pinkula, Ck'aisa, Mullunku, Pocco tturu, Nasari, Sisu, Janck'o rai, Pingo, Ruckii |
| Code | juz |
| Synonyms | |
| Clade | 4 |
| Series | Tuberosa |
| Ploidy | Triploid (3x) |
| EBN | 2 |
| Tuberization Photoperiod | Short Day |
| Self-compatibility | No |
| Nuclear Genome | A |
| Cytoplasmic Genome | M |
| Citation | Bukasov: Trudy vsecouz. sezda genetike 3:603. 1929 |
Description
Solanum juzepczukii is perhaps better included among the cultivated species than the wild, but as a wild species hybrid, the dividing line isn't entirely clear.  This species is treated more like a wild species in breeding programs.
The specific epithet honors Russian botanist Sergei Vasilievich Juzepczuk.  While there is no completely standardized pronunciation for scientific names, the most common way to pronounce this species is probably so-LAY-num yoo-ZEP-chook-ee-eye.
This species is cultivated primarily in the highest elevations of the Andes in Peru, Bolivia, and northern Argentina, where S. tuberosum group andigenum will not survive due to frost.  Plants grow about 12 to 16 inches (30 to 40 cm) tall, although some take a more wild-type rosette form.  They are similar in form to domesticated diploids, although with more delicate foliage.  Stolons of some varieties are rather long, as much as 18 inches (45 cm), although most are more like domesticated potatoes.  Tubers are similar in size and form to stenotomum type Andean diploid potatoes.  Most varieties have blue skin and some have blue flesh, less commonly white skin and yellow flesh.  The flowers are usually blue.  S. juzepczukii is high in glycoalkaloids and is only consumed after processing into the freeze-dried form, known as chuño.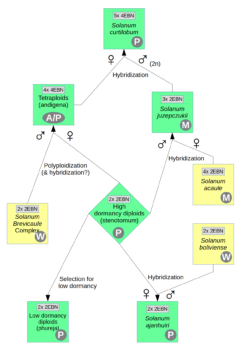 The origin of S. juzepczukii is believed to be as a hybrid between S. acaule and diploid S. tuberosum group andigenum (S. stenotomum).  S. acaule is tetraploid but 2EBN, while the stenotomum type diploid parent would have been diploid and 2EBN.  They are compatible because they have the same EBN, but the cross of a tetraploid and a diploid results in triploid progeny.  Crosses between these two species are hypothetically possible in either direction, but the fact that S. juzepczukii has M type cytoplasm indicates that S. acaule must have been the maternal ancestor.  Park (2021) compared the chloroplast genomes of S. acaule and S. juzepczukii and found a sequence identity of 99.90%, which further supports the hypothesis that S. acaule is the female parent of S. juzepczukii.
S. juzepczukii has been "artificially" synthesized by crossing the putative parent species.  I'm not sure why this hasn't been done more often.  It is much easier than crossing S. juzepczukii to domesticated potatoes.
Resistances
The varieties that we have grown here had excellent frost resistance, surviving undamaged in frosts that killed 99% of domesticated potatoes.
Glykoalkaloid content
Osman (1978) found that total glycoalkaloids ranged from 11.7 to 46.8mg/kg, so this species straddles the generally accepted safety limit of 20mg/kg.  Some varieties are edible fresh, while others must be processed to reduce glycoalkaloid content.
The accessions available in the USA are mostly bitter, although not strongly.  Glycoalkaloid content can vary with conditions, so I don't recommend eating this species, or at least keeping consumption to less than 3 ounces (85 g).
The Aymara recognize two groups of potatoes according to palatability: Choque potatoes are not bitter and can be eaten fresh and Luki potatoes are bitter and must be processed before eating.  Most, if not all, varieties of S. juzepczukii are in the Luki group.
Images
| | | | |
| --- | --- | --- | --- |
| Solanum juzepczukii plant | Solanum juzepczukii plant | Solanum juzepczukii plant | Solanum juzepczukii flower |
| USDA PI 599286 | USDA PI 599286 | USDA PI 595441 | USDA PI 595441 |
| USDA PI 599259 | USDA PI 599259 | USDA PI 595438 | USDA PI 595438 |
| Solanum juzepczukii flower | Solanum juzepczukii plant | | |
Cultivation
I have found growing considerations for S. juzpeczukii to be essentially the same as those for domesticated diploids.  All varieties appear to be short day tuberizers.
Accessions Evaluated
The following accessions were examined to prepare this profile. I have evaluated 4/4 accessions currently available from the US Potato Genebank.
PI 595411 "Lik'i"
Tubers white to slightly blue, darkening after harvest.  Tall plants with abundant purple flowers.  Tubers bitter.  Collected in Bolivia before 1993.
PI 595438 "Azul Luk'i"
Purple tubers.  White flesh with some purple.  Tall plants with abundant purple flowers.  Tubers bitter.  Collected in Bolivia before 1993.
PI 599259 "Lucky"
White tubers.  Tall plants with abundant purple flowers.  Tubers bitter.  Collected in Bolivia before 1995.
PI 599286 "Laram K'anchali"
Purple fingerling tubers with white flesh.  Short, rosette-like plants with blue flowers.  Tubers bitter.  Poor yield.  Collected in Peru before 1996.
Breeding
As a triploid, there is little opportunity to use this species for breeding, although persistence can pay off.  With hand pollination with domesticated diploid pollen, I have managed to get a few berries with a few seeds.  I was also able to get berries with seeds on this species by pollinating with S. acaule.
S. juzepczukii pollen (which is virtually nonexistent) has been reported to successfully pollinate domesticated tetraploids with a low degree of success.  In such cases, I imagine that the pollen must be 2n. Triploid potatoes will produce gametes with varying numbers of chromosomes and this may lead to variations in EBN, possibly accounting for the occasional success in crosses.
Crosses with S. tuberosum
| Female | Male | Berry Set | Seed Set | Germ | Ploidy | Source |
| --- | --- | --- | --- | --- | --- | --- |
| S. tuberosum (4x) | S. juzepczukii | Yes | Yes | Yes | 4x | Ochoa 1990 |
| S. juzepczukii | S. tuberosum (2x) | Very low | Very low | Yes | | |
Crosses with other species
| Female | Male | Berry Set | Seed Set | Germ | Ploidy | Source |
| --- | --- | --- | --- | --- | --- | --- |
| S. juzepczukii | S. acaule | Low | Very low | Yes | | |
References
Solanum juzepczukii at Solanaceae Source