Solanum kurtzianum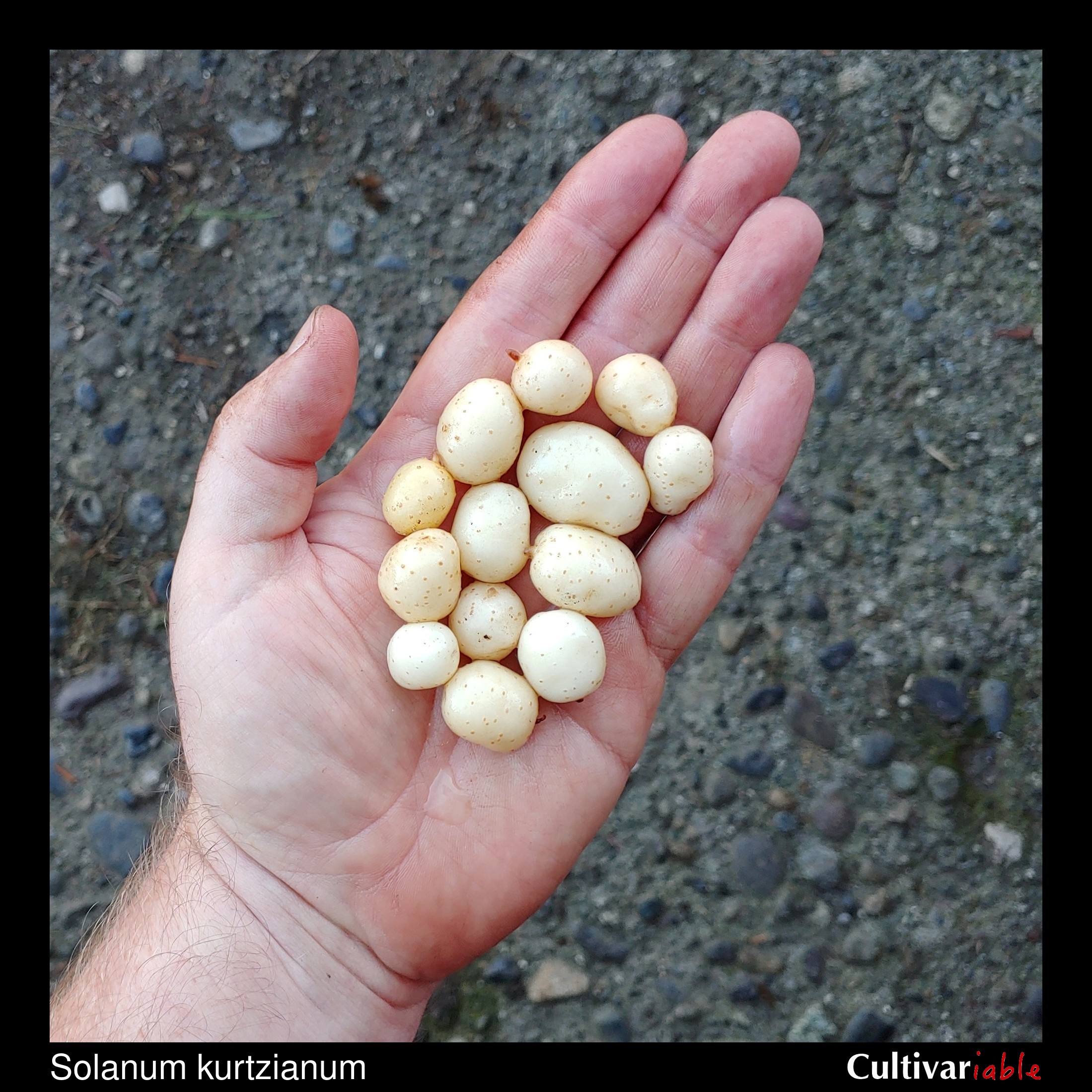 | | |
| --- | --- |
| Common Names | |
| Code | ktz |
| Synonyms | S. improvidum, S. macolae, S. ruiz-lealii, S. velascanum |
| Clade | 4 |
| Series | Tuberosa |
| Ploidy | Diploid (2x) |
| EBN | 2 |
| Tuberization Photoperiod | Short Day |
| Self-compatibility | No |
| Nuclear Genome | A |
| Cytoplasmic Genome | Unknown |
| Citation | Bitter & Wittmack: Bot. Jahrb. Syst. 50, Beibl. 548. 1914. |
Description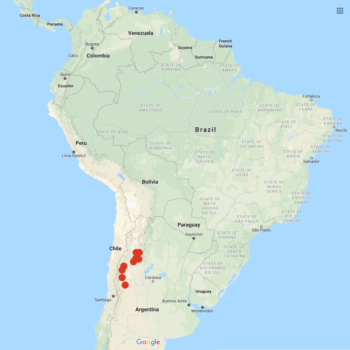 Solanum kurtzianum (kurtzianum, in honor of German botanist Fritz Kurtz) is a wild potato species from Argentina.
The specific epithet, kurtzianum, honors German botanist Fritz Kurtz.  While there is no completely standardized pronunciation for scientific names, the most common way to pronounce this species is probably so-LAY-num kurt-zee-AN-um.
Subramanian (2017) found that at least some accessions of this species have unusually low calcium and potassium content and extremely high dry matter.
Resistances
This species can survive frosts down to 26 degrees F (-3.5 C) (Li 1977).  Vega (1995) found that this species is less frost tolerant than domesticated potato.
In an in vitro test of 10 wild diploid species, S. kurtzianum was one of the most heat resistant and yielded more under warm temperatures (Guedes 2019).
Glykoalkaloid content
No information.
Images
| | | | |
| --- | --- | --- | --- |
| Solanum kurtzianum tubers | | | |
| | | | |
| | | | |
Cultivation
I have found this species difficult to germinate.  It might require conditions different than the standard for S. tuberosum.
Towill (1983) found that seeds of this species stored at 1 to 3 degrees C germinated at 72 to 96% after 26 years.
Bamberg (1995) found that at least some accessions of S. kurtzianum are able to produce a significant amount of viable pollen even when temperatures exceed 100 degrees F for several hours during the day.  Flowering was reduced under these conditions.
Breeding
Jackson (1999) found 6% 2n pollen from varieties of this species.
Crosses with S. tuberosum
This species was used in the breeding of the variety 'Conestoga' (Love 1999).
| Female | Male | Berry Set | Seed Set | Germ | Ploidy | Source |
| --- | --- | --- | --- | --- | --- | --- |
| S. kurtzianum | S. tuberosum | None | None | | | Jackson (1999) |
| S. tuberosum | S. kurtzianum | None | None | | | Jackson (1999) |
Crosses with other species
| Female | Male | Berry Set | Seed Set | Germ | Ploidy | Source |
| --- | --- | --- | --- | --- | --- | --- |
| S. commersonii | S. kurtzianum | Yes | Yes | Yes | | Perlova 1945 |
References
Solanum kurtzianum at Solanaceae Source
Solanum kurtzianum at GRIN Taxonomy