Solanum x blanco-galdosii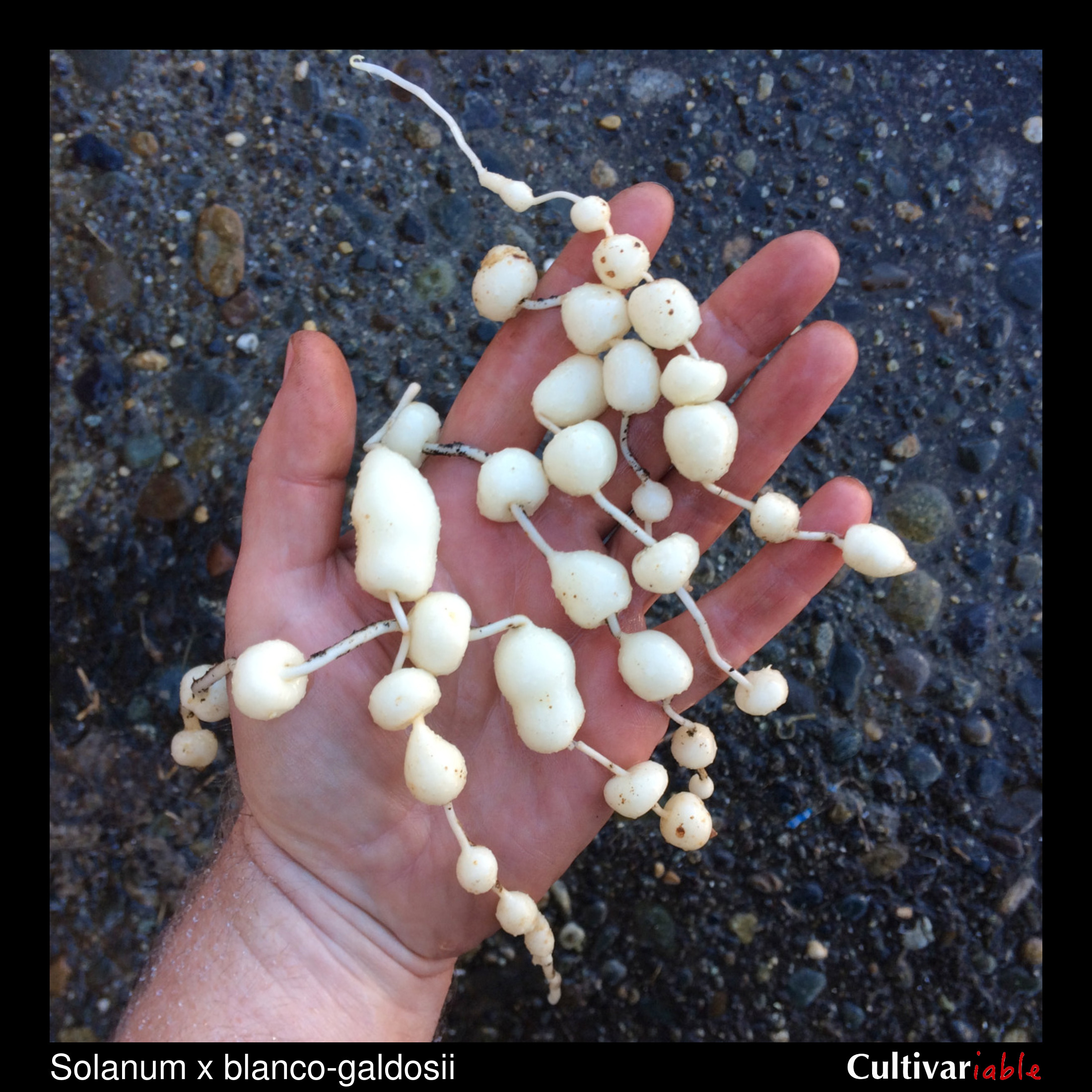 | | |
| --- | --- |
| Common Names | Papa de Gentil |
| Code | blg |
| Synonyms | |
| Clade | 3 |
| Series | Piurana |
| Ploidy | Diploid (2x) |
| EBN | 2 |
| Tuberization Photoperiod | Short Day |
| Self-compatibility | No |
| Nuclear Genome | P |
| Cytoplasmic Genome | W |
| Citation | Ochoa: Anales Ci., Univ. Nac. Agrar., Lima 11:157-160. 1973 |
Description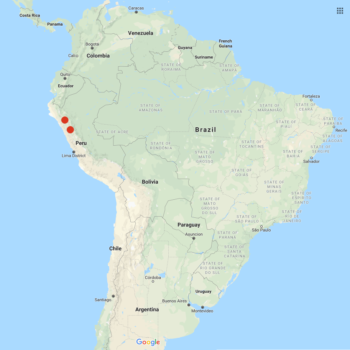 Solanum x blanco-galdosii is a nothospecies (a naturally occurring hybrid) from nothern Peru.  It is thought to be a cross of S. chomatophilum x S. peloquinianum and has been experimentally recreated by the International Potato Center (Ochoa 2004).  There may be a little more complexity to the background of this species.  Ames (2010) found that S. x blanco-galdosii grouped genetically with S. jalcae in addition to the previously recognized parent varieties.  This is part of a small group of very interesting dryland species from Peru that have long, thin leaves and a sparse growing habit.
The specific epithet, blanco-galdosii, honors Ecuadorian botanists Gonzalo Blanco and Oscar Galdos, who collected and described this species.  While there is no completely standardized pronunciation for scientific names, the most common way to pronounce this species is probably so-LAY-num cross BLAN-koh-gahl-DOH-see-eye.
Resistances
This hybrid might be a useful source of drought resistance genes if it could be crossed to domesticated potatoes.  One of its parents, S. peloquinianum, grows under some of the driest conditions of any wild potato.
Vega (1995) found that this species is less frost tolerant than domesticated potato.
| Condition | Type | Level of Resistance | Source |
| --- | --- | --- | --- |
| Potato Leaf Roll Virus (PLRV) | | High | Ochoa 2004 |
| | | | |
Glykoalkaloid content
I have sampled some tubers of this species and found them pleasant tasting with no bitter aftertaste.
Images
| | | | |
| --- | --- | --- | --- |
| Solanum blanco-galdosii plant | Solanum blanco-galdosii plant | Solanum blanco-galdosii inflorescence | Solanum blanco-galdosii flower |
| Solanum blanco-galdosii flower | Solanum x blanco-galdosii plant | Solanum x blanco-galdosii tubers | |
| | | | |
Cultivation
I have found seeds of this species difficult to germinate.  They might require conditions different from the standard for S. tuberosum.
This hybrid is found at medium elevations in Peru, generally in cool, dry valleys.
Breeding
Crosses with S. tuberosum
| Female | Male | Berry Set | Seed Set | Ploidy | Germ | Source |
| --- | --- | --- | --- | --- | --- | --- |
| S. blanco-galdosii | S. tuberosum 4x | None | None | | | Jackson (1999) |
| | | | | | | |
Crosses with other species
| Female | Male | Berry Set | Seed Set | Ploidy | Germ | Source |
| --- | --- | --- | --- | --- | --- | --- |
| | | | | | | |
References
Solanum x blanco-galdosii at Solanaceae Source
Solanum x blanco-galdosii at GRIN Taxonomy