This product is not currently available. This catalog page is for reference only.
200 pages, PDF, 166 photos and illustrations. 
Also available as a Kindle book from Amazon here: http://amzn.com/B01B7KKUC4
---
One of the most rewarding parts of having your own vegetable garden is being able to grow plants that you will almost never find at the grocery store. In The Cultivariable Growing Guide, Cultivariable owner and plant breeder William Whitson takes you on a tour of sixteen vegetables that are rarely seen in North America. These plants thrive in the Pacific Northwest, but many of them are adaptable to other climates as well.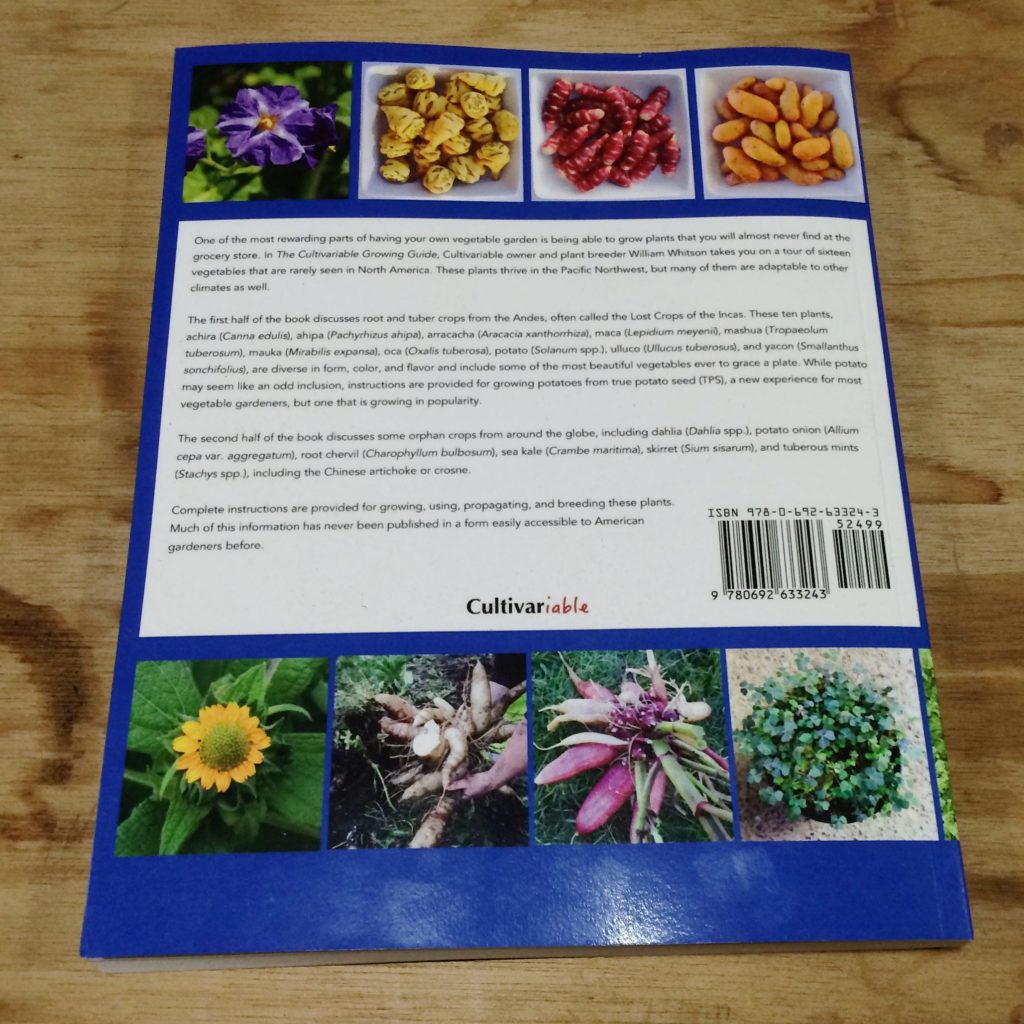 The first half of the book discusses root and tuber crops from the Andes, often called the Lost Crops of the Incas. These ten plants, achira (Canna edulis), ahipa (Pachyrhizus ahipa), arracacha (Aracacia xanthorrhiza), maca (Lepidium meyenii), mashua (Tropaeolum tuberosum), mauka (Mirabilis expansa), oca (Oxalis tuberosa), potato (Solanum spp.), ulluco (Ullucus tuberosus), and yacon (Smallanthus sonchifolius), are diverse in form, color, and flavor and include some of the most beautiful vegetables ever to grace a plate. While potato may seem like an odd inclusion, instructions are provided for growing potatoes from true potato seed (TPS), a new experience for most vegetable gardeners, but one that is growing in popularity.
The second half of the book discusses some orphan crops from around the globe, including dahlia (Dahlia spp.), potato onion (Allium cepa var. aggregatum), root chervil (Charophyllum bulbosum), sea kale (Crambe maritima), skirret (Sium sisarum), and tuberous mints (Stachys spp.), including the Chinese artichoke or crosne.
Complete instructions are provided for growing, using, propagating, and breeding these plants. Much of this information has never been published in a form easily accessible to American gardeners before.