It was only seven weeks ago that I posted about what then seemed a significant achievement: the collection of 1,000 oca (Oxalis tuberosa) seeds. This week, I passed 10,000. My better (and funnier) half frequently teases me because I said at the beginning of the year that I would be satisfied if I got just 1.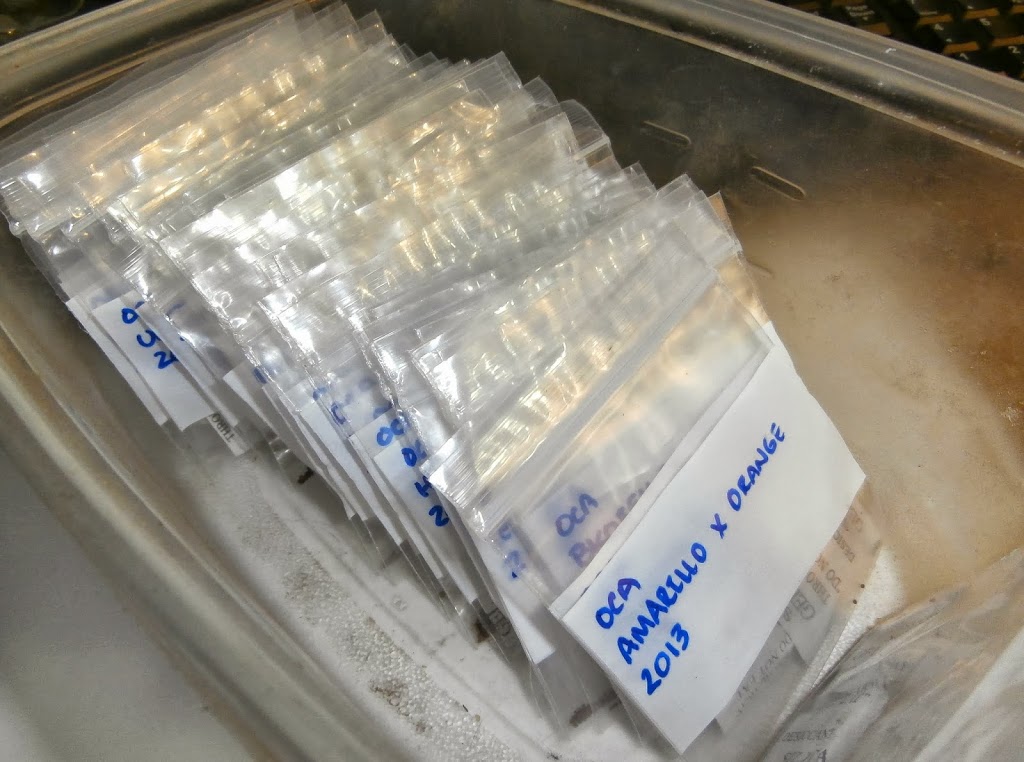 My little oca seed bank is growing quickly
10,000 (and really I am now closer to 11,000!) is a lot more than I can grow in even several years. So, why not stop now? I have a lot of seeds from the most prolific varieties, but relatively few from the less productive. This year has proven clearly that nature can supply more oca seed than I can use without any intervention on my part. Unfortunately, it would almost all belong to a pair of reciprocal crosses that far out-flower any other varieties.
It would also cut down my ability to learn about the traits expressed in crosses of specific varieties, which limits potential for directed breeding. Of course, crosses with oca, an octoploid, are not ever going to be as straightforward as they are with many food plants, but that doesn't mean that there won't be patterns to discover.
Plus, I'm sending out a lot to other growers, which may be even more worthwhile than growing out myself. In some ways, my climate may be a little too ideal for oca. It would still be nice to get an earlier variety, but that won't really help people who can't grow it because of conditions that are too hot or dry, which is the case in most of the USA. I don't have those conditions, so I can't select for them. By sending seed to people who can't grow it themselves, the possibilities for more widely adapted varieties are improved. I've sent out about 1000 seeds so far, but most outside of North America. I need to find some more Americans and Canadians who want to give it a try.
There is still some time left in the season and that means more work to do. I am no longer spending any time making common crosses, but am focusing on far lower yielding activities: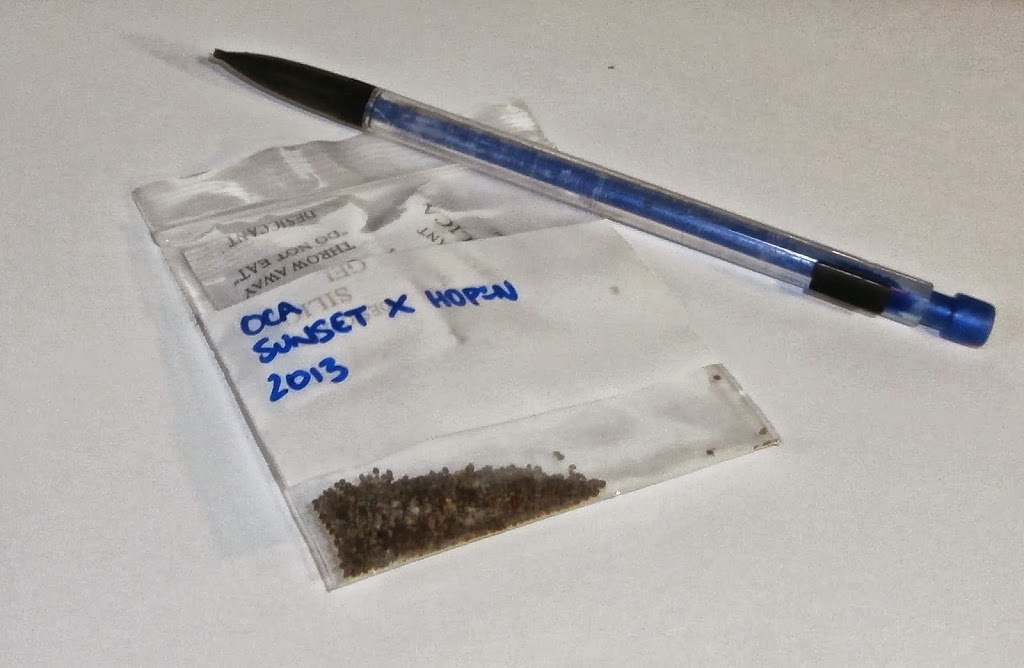 This sack contains about 1500 oca seeds.
Doesn't look like much, does it?
* Crosses with Amarillo, which does not flower in the field but does so occasionally under better protected circumstances.
* Crosses with Pink, which barely flowers either way.
* Crosses between mid-styled varieties. There is about a 1/3 chance of obtaining 1-3 seeds from such crosses, so I haven't done many. In fact, I have only done Hopin x Hopin so far. So, there is a lot of work that I can do here, but the seed yield will be small.
And, I'm still looking for flowers from Crema de Rosa, Rosy Gems, and Polar Bere, the three varieties that have not flowered yet.
Oca seeds and tubers are sometimes available in our seed shop.
This is the list of crosses that I have made successfully this year:
Amarillo x Orange
BK08516.8 x Hopin
Blush x Bolivian Red
Blush x Golden
Blush x Sunset
Blush x Twilight
Bolivian Red x Amarillo
Bolivian Red x Blush
Bolivian Red x Hopin
Bolivian Red x Moonshine
Bolivian Red x White
Golden x Hopin
Golden x White
Hopin x BK08516.8
Hopin x Bolivian Red
Hopin x Golden
Hopin x Hopin
Hopin x Mexican Red
Hopin x Orange
Hopin x Pink
Hopin x Real Seeds Red
Hopin x Sunset
Hopin x Twilight
Hopin x White
Mexican Red x Amarillo
Mexican Red x Blush
Mexican Red x Hopin
Mexican Red x Moonshine
Mexican Red x White
Moonshine x Real Seeds Red
Moonshine x Sunset
Orange x Blush
Orange x Hopin
Orange x Moonshine
Orange x White
Real Seeds Red x Blush
Real Seeds Red x Hopin
Real Seeds Red x Moonshine
Real Seeds Red x White
Sunset x Blush
Sunset x Hopin
Sunset x Moonshine
Sunset x White
Twilight x Hopin
Twilight x Moonshine
Twilight x White
White x BK08516.8
White x Mexican Red
White x Sunset
White x Twilight