I was recently interviewed for the Free the Seed podcast, where we discussed the selection of our new potato variety Rozette.  This blog post is a companion to that podcast.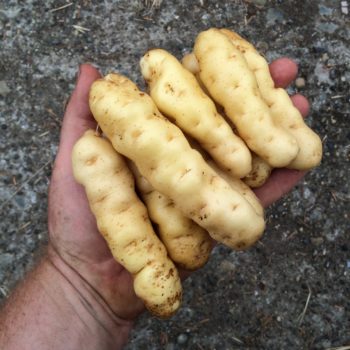 The Pacific Northwest has a few heirloom potatoes that precede large scale settlement of the area by Europeans.  The most famous of these potatoes is Ozette.  Ozette is a fingerling potato with deep eyes, a trait common in primitive potatoes from South America, but unusual in varieties that have been produced through modern breeding efforts.  It has been grown by the Makah people of the northwest Olympic peninsula for a very long time.  Its origin was a bit of a mystery, but a pretty compelling case has been made that it was an early introduction by the Spanish.  A Spanish fort was established at Neah Bay in 1792.  The Spanish didn't stay, but they probably left behind the Ozette potato, which was adopted by the Makah.  In a genetic analysis, Zhang (2010) found that Ozette is more closely related to Chilean potatoes than to the potatoes that had been introduced to the east coast from Europe.
I have grown Ozette since 2007 with the goal of using it for breeding.  We live on the central coast of Washington about 60 miles from Lake Ozette, so Ozette is as close as we get to a local potato.  I figured that 200 years of adaptation to this climate might make it a first rate choice for breeding.  Unfortunately, it has many of the problematic features that plague the potato breeder: it is a very reluctant flowerer, poor at holding any flowers that do bloom, and to top it off, it is male sterile.  The first hurdle was the biggest.  Most years, Ozette does not flower here. About every three years, I would get a flower or two.  I would hand pollinate those flowers and, a few days later, they would drop from the plant.
| | | | |
| --- | --- | --- | --- |
| The elusive white and pink flower of Ozette | Berries forming about 10 days after pollination | A mature Ozette berry that contained 101 seeds | Ozette potato seedlings showing diverse phenotypes |
In 2016, I got half a dozen flowers at a time of year when I had a lot of other varieties in flower.  I pollinated the Ozette flowers with bulk pollen from many varieties with blue or red flesh and I finally got a break: three of those flowers held on the plants and formed berries.  Only two of the berries ultimately contained seeds, but I ended up with 176 seeds in total.  I put 40 seeds in the freezer as insurance against incompetence (I'm growing those reserved seeds this year) and sowed the rest, ultimately getting tubers from 112 seedlings.  I grew those seedlings in pots to produce minitubers and then planted the minitubers out in the field the next year for a full evaluation.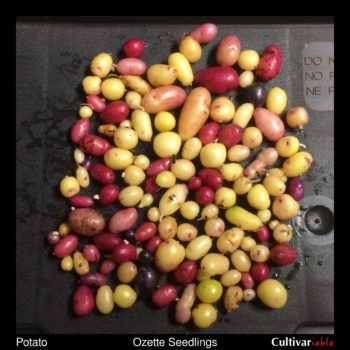 112 seedlings is not a lot to work with.  Institutional potato breeders might select one variety from every 10,000 to 100,000 seedlings.  I am much less stringent in my selection criteria, but I typically go through 400 to 500 seedlings to find a keeper.  I was really hopeful about getting something worth keeping from these seedlings, considering how difficult it was to get the seed in the first place, but I wasn't that optimistic.  By my normal standards, I had about a 1 in 4 chance of finding a keeper in this batch.  I was willing to be a bit less selective than usual though, particularly if I could find some seedlings that flowered better than Ozette.  Those, at least, could be used to make additional crosses and mix the Ozette genetics around, although there is the further complication that Ozette is male sterile.  That means that the seedlings could not be used to pollinate each other.  Breeding with Ozette is a one-way trip in which the genetic contribution from Ozette will be reduced by half with each succeeding generation.
As is usually the case, most of the seedlings didn't do that well in their field testing.  Quite a few suffered badly from early blight.  Other plants were healthy but remained small and produced poor yields.  More than half of them were plain white potatoes with unremarkable shapes and I rarely keep white potatoes unless they have amazing flavor or unusual trait combinations.  A large number of them produced knobbly tubers, which was interesting.  I don't usually see a high percentage of knobbly tubers from seed.
Because potatoes are polyploid and outbreeding, they have high genetic diversity.  You never really know what you are going to see the first time you grow out progeny of a new variety.  I had an idea of what I wanted though: a potato that retained the flavor and shape of Ozette but with some more color and better flowering.  The ideal potato would have had both strong blue or red skin and flesh color.  I got a lot of color in the seedlings, which was not a surprise since I pollinated the flowers with pollen collected from red and blue fleshed varieties.  The more difficult trait was the Ozette shape.  There were hints of that shape in a lot of the progeny, but almost none of them got both the deep eyes and fingerling shape.
After culling the weak, diseased, non-flowering, boring, irregular, and poorly yielding plants, I ended up with six that were worth some consideration, but there was only ever one obvious keeper.
| | | | | |
| --- | --- | --- | --- | --- |
| Ozette candidate #1: Too small. | Ozette candidate #2: Too knobbly. | Ozette candidate #3: Too bitter. | Ozette candidate #4: Too barren. | Ozette candidate #5: Too boring. |
With any other parent, I would have culled candidate #1 without a second thought.  The tubers were small – just reaching three inches.  It was kind of pretty and I might have kept it for a breeding line if it had been a good flowerer, but it was only a little better than Ozette.
Candidate #2 was better in some ways.  I selected it first because it was a good flowerer.  It also had good flavor.  Like many of the culled seedlings though, the tubers were a mess  – very knobbly.  I compromised on this one.  I pollinated the evaluation plants with diverse pollen, collected a lot of seed, and then let it go to potato Heaven.  So I have a few thousand true seeds from this seedling to try in the future.  Those will be 1/4 Ozette genetics, so there is still a pretty good chance that I will get something Ozette-like out of them.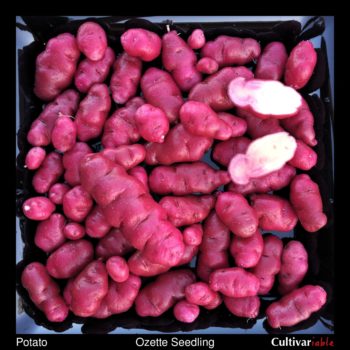 Candidate #3 looked good.  I had high hopes for it.  The color was great and the size was reasonable.  It was a fair flowerer.  Unfortunately, this potato was quite bitter, a sign of high glycoalkaloid content.  That was reason enough to let it go, although I collected about a dozen berries from it, so I have some seed to try.
Candidate #4 didn't thrill me until I tasted it.  The flavor was great.  The shape was sort of interesting – laterally compressed.  It was a poor flowerer though, which is not good for breeding and that was the kiss of death for it.
Candidate #5 was close.  The yield was good and tuber size was good.  It was a poor flowerer, but better than Ozette.  The color was nice.  Unfortunately, the flavor just wasn't that great.  It was a nice looking but boring potato.
That left only one other candidate and I was pretty excited about it.  The yield was good, it had an appealing shape and color, and it tasted very good.  It wasn't a particularly good flowerer, but it was better than Ozette at least.  Unfortunately most of the tubers were pretty small.  That worried me, but there were a couple of larger tubers that were true to the Ozette shape, so the only thing to do was grow out a second generation and see if they performed better.
| | | | |
| --- | --- | --- | --- |
| Rozette potatoes | Rozette potato flesh color | Rozette potato foliage | Rozette potato flower |
Happily, they did!  Rozette met almost all the criteria I had hoped for.  I would have preferred a bit more flesh color, but that is a small complaint.  It would have been really nice if it were a more capable flowerer, but I can work with it.  Overall, it is a really beautiful potato with good flavor.  It is something that I think most people would be excited to pull out of the ground and that is really the main thing that I aim for.
I think Rozette is a good example for hobby potato breeders.  Although it took a long time to get to seed, there is only one generation of selection in this variety.  That is one of the nice things about plants that are propagated clonally; you don't have to spend years stabilizing the variety.  The 112 plants that I grew could fit into an area of about 15 x 15 feet.  I won't pretend that every variety is this easy, of course.  Usually, I have multiple generations of crosses invested in varieties that I release and I was only able to get such diverse results in this case because I had hundreds of potato varieties to draw on for pollen.  Still, sometimes you pull a winning lottery ticket on the first try.  And, of course, if you are flexible in your criteria, you can often find something that you will be happy with even if it isn't exactly what you wanted.