Clancy is a 2019 introduction from Bejo Seeds, a large breeder and seed producer, based in the Netherlands, who have trademarked the phrase, "True Botanical Potato Seed," thereby cornering the market on redundancy, I guess.  A friend who ordered more than he needed kindly sent me the remainder of his packet and I thought it would be fun to review it, since there aren't that many TPS varieties targeted at the catalog market.  As far as I am aware, this is the first TPS variety produced by a large seed company in several years.  There have been a handful of attempts to get seed resellers interested in a TPS variety, beginning with 'Explorer' in the 1980s.  I think the most successful, at least in terms of how long I saw it in catalogs, was 'Zolushka,' introduced in the 1990s.  It is actually still available in some places, but I don't know if it is the original F1 hybrid or later generation seed.  I think that it is great to have a TPS variety in the big seed catalogs again, as that may get more people interested in growing from TPS.  The trick with TPS is that people need good instructions, realistic expectations, and the patience to gain some experience in order to have good results.  That is not something that you can always expect, particularly if a packet of seeds is an impulse buy.  It will be interesting to see what kind of results people report.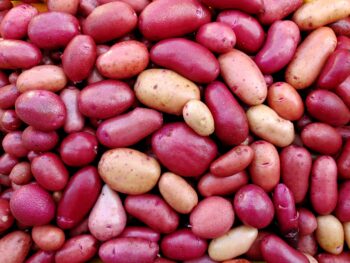 Not much information is provided in the seed catalog descriptions.  What guidance that is provided is the usual catalog fare, which is to say, broadly worded.  It looks like we can expect mostly red skin, white flesh types with mid-season maturities, with a flavor "somewhere between a yellow skinned type and a russet," producing 4 to 5 tubers with a yield up to 20 ounces.  As you can see from the pictures, that is not too far off the mark, although the tuber count that I obtained was much higher.
I got good germination from Clancy, using standard TPS starting conditions, at 83% (68 out of 82 seeds).  The seeds were among the slowest to germinate of the 77 lines of TPS grown this year, with seedlings emerging between day 11 and day 17.  I suspect that might have something to do with the fact that these seeds are pelleted, simply because that is the only thing that is really different.  I generally only see germination that slow from really old seed and I'm guessing this seed is fresh since the variety was just introduced.  So, if you have experience growing TPS, be patient with this one.  I transplanted seedlings out to beds seven weeks after sowing, when most of them had three sets of true leaves.
Clancy seedlings two weeks after transplanting out
At transplant to the field, many of the seedlings had tuber development, so it appears that quite a few of them will have early maturities.  The seedlings were a bit slow growing and prone to yellowing, compared to the generally hardy landrace types that I grow.  I suspect that they were probably selected under fertile soil conditions and expect a richer soil than I gave them, so you might want to bring your soil fertility up to potato standards before growing this variety.  I also don't generally grow early varieties, so it isn't a totally fair comparison.  Early varieties are under a lot of pressure, particularly when grown from TPS, as they tend to start producing tubers before the plants are fully established after transplant.  They did eventually green up and put on good growth.  Some of them suffered fairly badly from early blight in the spring, but they all grew out of it as the weather dried out.  Other than that, the plants were healthy and happy once they were established.
Clancy traits
| | | | |
| --- | --- | --- | --- |
| Clancy flower buds | Clancy foliage | Clancy leaf | Clancy potato plants |
Plants were fairly compact, as expected with early varieties, mostly single stemmed and topping out at about 16 inches, with a few reaching over two feet.  Most plants flowered, at least briefly, with mostly pink to red flowers.  Most plants appeared to be male sterile, as you would expect for hybrid TPS (if the seed parent were not sterile, it would mostly self-pollinate instead).  However, a few plants produced free pollen.  I didn't check to see if it was viable or not, but I would expect not.  If it does have some fertility, that would make it more interesting for the hobbyist market, because Clancy is available in some places with poor access to TPS, like Canada.  Based on the relatively small amount of pollen that I saw, if you want to save seed from this variety, you will still want a male fertile potato to pollinate.  I collected about two quarts of berries from a 32 plant bed, which is better than you will get from most commercial tetraploids, but there is a lot of potato pollen floating around here.
Clancy flowers

Time from sowing to harvest was mostly between five and six months.  Seeds were sown on March 12th, the first transplant was April 15th, and field transplant was May 15th.  The first flowers were observed on June 19th, although most did not flower until the end of June.  The first plants to die back were done and ready to harvest on August 28th.  This is consistent with a maturity of about 100 days when grown from tubers, mid-season (or second early) maturity.  My climate is cool and potatoes grow a little bit slower than they do inland, so some of these might be a week or two earlier in warmer climates.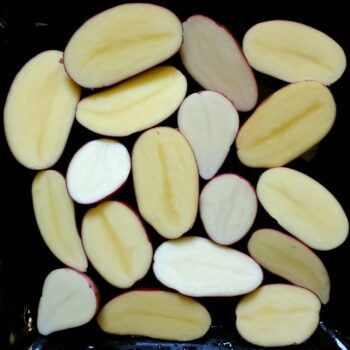 Tubers were mostly oblong, some round.  The skin color was mostly pink to red, some with a bit of contrasting eye or eyebrow color.  Skin ranged from smooth to netted.  Flesh color was a mix of whites and light yellows.  Tuber size was generally pretty good, with at least a few tubers reaching 3-4 inches on most plants.  Yields were fair, with the average at 15 ounces, maximum at 37 ounces, and minimum of zero.  Tuber counts tended to be high, with an average of 22, ranging zero to 41.  Stolons were generally short, but about 10% had stolons exceeding two feet in length, usually in combination with smaller tubers.  About a quarter suffered from scab and scab is not very common here, so I would classify those as pretty vulnerable.  I haven't had an opportunity to evaluate dormancy, which is very important in potatoes with early maturities, but I will update this post next spring.  I kept three selections to try again from tubers next year.
Flavor was generally good, not particularly memorable, but certainly on par with grocery store reds.  Some were better than others.  I found the white flesh types had better flavor than the yellows.  All of them were in a range of texture and flavor that I would be happy enough to eat.  I didn't taste every seedling.  Texture was mostly all-purpose, neither waxy nor floury, but ranged from very dense and moist flesh to light and floury at the extremes. 
The progeny overall were very similar to TPS progeny of Chieftain, so if you have grown Chieftain TPS and liked it, you would probably like Clancy as well.  I don't think Clancy is uniform enough that most people would want to grow a field of it from seed, but it should be easy enough to select a few good clones from a packet of seed.  Clancy appears to be available in Canada, so it is a great option for you Canadians in search of TPS, although you will still need a pollinator if you want to save seed.  Bottom line, if you are looking for an early red variety, particularly for use as new potatoes, Clancy seems like it would be worth a try.  It is a good potato, with a high degree of uniformity, and it should be suitable for beginners looking to get some experience with true potato seeds.