---
Solanum commersonii
Common Name(s)
Commerson potato, Commerson's nightshade

Solanum commersonii tubers

 
Code
cmm
Synonyms
S. henryi, S. mechonguense, S. nicaraguense, S. ohrondii
Clade
?
Series
Commersoniana
Ploidy
Diploid (2x), Triploid (3x)
EBN
1
Tuberization Photoperiod
Day neutral
Self-compatible
No (Whalen 1981)
Genotype

Unknown
Cytoplasm Type
 
Citation

Dunal: Encycl. suppl. 3:746. 1814
Description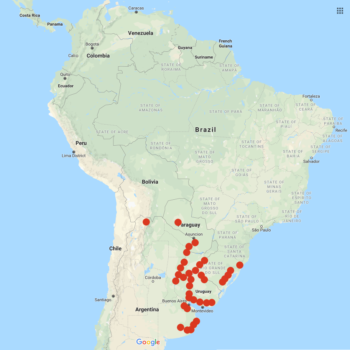 Solanum commersonii (commersonii, in honor of French naturalist Philibert Commerson, who collected the type specimen) is a species of Argentina, Paraguay, Uruguay, and Brazil.  Plants are low growing and often rosette like, with what I would describe as a "weedy" appearance.  Flowers are small, stellate, white to purple, but usually more colorful on the back than the front.  Berries are long and tapering.
There are reports of this species being cultivated as an edible in France in the early twentieth century, where it produced "abundant, large, and palatable" tubers (Newman 1904).  Reddick (1939) reported tubers of large, commercial size in an early evaluation of this species.
S. commersonii is one of the few wild potato species for which the genome has been sequenced (Aversano 2015).  Sequencing revealed that this species is dramatically less heterozygous than the domesticated potato (1.5% vs 53-59%).  There are a number of possible reasons for this, including that the accession that was sequenced has been maintained in isolation and that the domesticated potato may have an unusual high level of heterozygosity as the result of modern breeding.
Resistances
This species can survive frosts down to 23 degrees F (-5 C) (Li 1977).  Vega (1995) found that this species is more frost tolerant than domesticated potato and nearly as tolerant as S. acaule.  Genomic analysis revealed that this species upregulates production of galactinol sythase, which has been associated in other speices with the production of raffinose oligosaccharides that can protect against osmotic stress (for example, stresses caused by frost exposure) (Aversano 2015).
In a study of early blight resistance, Jansky (2008) found that S. commersonii was one of the top three most resistant species tested.
Glykoalkaloid content
Carputo (2003) found a value of 48.1 mg / 100g for this species, a level more than double the safety limit, with three glycoalkaloids: dehydrodemissine, dehydrotomatine, and dehydrocommersine.
I have tasted a random sampling of tubers from seed grown plants of these species and found them all palatable.  That could be good luck, or perhaps some of the glycoalkaloids in this species are not as bitter as the more common solanine and chaconine.
Images
Solanum commersonii plant

Solanum commersonii plant

Solanum commersonii plant

 

Commerson Potato Magazine Clipping

Solanum commersonii plant

 

Solanum commersonii flower

 

Solanum commersonii inflorescence

Solanum commersonii flower

Solanum commersonii flower back

Solanum commersonii flower back

Solanum commersonii berries

Solanum commersonii berries

Solanum commersonii berries

Solanum commersonii berries

Solanum commersonii tubers

 

 

 
Cultivation
Chen (1976) found that this species reaches its maximum frost resistance (about 11 degrees F, -11.7 C) following a three week period of shortening photoperiod and reducing day and night temperatures.
Bamberg (1995) found that at least some accessions of S. commersonii flower better at high temperatures than under typical temperate growing conditions.  Flowering was better when greenhouse temperatures exceeded 100 degrees F for several hours during the day.
I have noticed that berries of this species are easily dislodged, even before they are mature.  My normal practice is to give a little shake to each inflorescence and harvest any berries that fall off; with this species, even young berries tend to drop.  It might be a good idea to tie up or otherwise support inflorescences and to shelter the plants from strong wind for greater yield.  This species also produces many seedless, parthenocarpic berries, so seed yields can be surprisingly low.
Breeding
Watanabe (1991) found that 4.8% of varieties of this species produced 2n pollen and Jackson (1999) found 1-10%, which would be effectively tetraploid and 2EBN.
Crosses with S. tuberosum
| Female | Male | Berry Set | Seed Set | Germ | Ploidy | Source |
| --- | --- | --- | --- | --- | --- | --- |
| S. commersonii | S. tuberosum | None | None | | | Jackson 1999 |
| S. tuberosum | S. commersonii | Minimal | None | | | Jackson 1999 |
Crosses with other species
| Female | Male | Berry Set | Seed Set | Germ | Ploidy | Source |
| --- | --- | --- | --- | --- | --- | --- |
| S. commersonii 3x | S. demissum | Yes | Yes | Yes | | Reddick 1939 |
| S. commersonii | S. jamesii | Yes | Yes | | | Reddick 1939 |
References
Solanum commersonii at Solanaceae Source
Solanum commersonii at GRIN Taxonomy