Mostly, this post is just an excuse to show you a staged picture.  But, I'll pad it out a bit with some stats, because, who doesn't like stats?
We grew 364 oca plants this year.  About half were grown from small tubers and cuttings in our upper garden, where I focused on seed production.  These plants produced an average of 0.6lb of tubers.  They would have done better, I'm sure, if I hadn't hacked off every stem that produced a flower.
The other half were grown in our lower garden, from full size tubers, where we got an average of 2.2lb per plant.  That's pretty good!  Once every last tuber was accounted for, we pulled in an oca harvest of 507lb.
We grew 16 varieties this year, produced three new varieties from seed, and are growing another 48 new seedlings indoors which will be planted out in the spring, assuming that they don't go into sensescence over the winter.
I guess that's enough stalling, here's your pretty picture: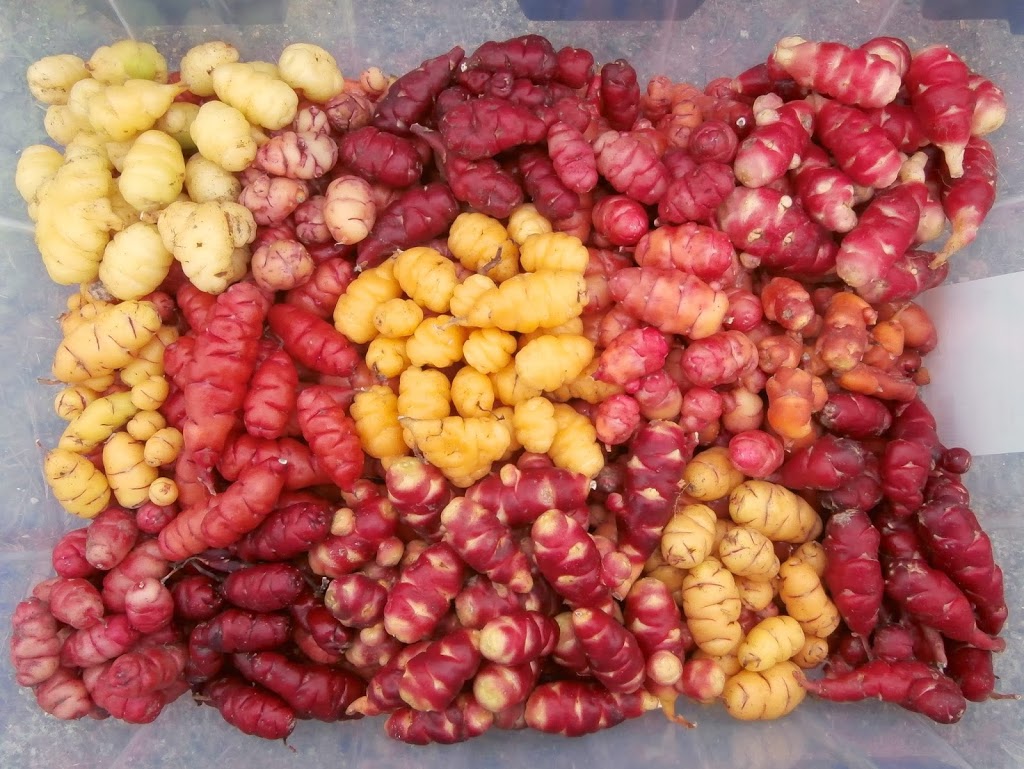 2013 oca harvest
Next year should be pretty exciting.  Thanks to some very generous folks who shared their varieties with us this year, we now have more than 60 oca varieties.  We'll grow at least 1000 plants next year, both to evaluate and multiply up these varieties and to grow many new plants from seed.
I doubt that I will post anything else this year, so merry Christmas, happy holidays, and a happy new year!
Thanks to everybody who reads and comments, who generously shares seeds and plants, and to everyone who patronized our new seed shop, which you have made a much greater success than we anticipated!  This was a fun year and we're looking forward to the next!